---
---
The One Earth series celebrates this special planet we call home. Explore its incredible diversity! See it through the eyes of scientists, naturalists, and photographers as they share their inspirational stories and knowledge about the natural world. This speaker series is hosted at the Ecology Centre and is for ages 15 and up.
Cost: $9 per person
Register by calling the Ecology Centre at 604-990-3755
---
Fantastic Fungi with Willoughby Arevalo
---
Saturday, September 28, 1 pm to 3 pm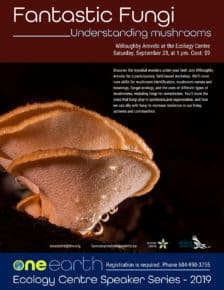 Discover the mycelial wonders under your feet! Join Willoughby Arevalo for a participatory, field-based mushroom workshop. The afternoon will cover core skills for mushroom identification, mushroom names and meanings, fungal ecology, and the uses of different types of mushrooms, including the use of fungi for remediation. Participants will come to understand the roles that fungi play in symbiosis, succession and regeneration, and how we can ally with fungi to increase resilience in our living systems and communities.
---
---