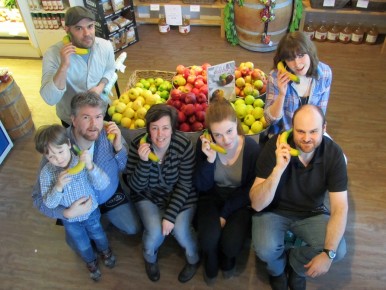 Jeff, Adrienne & Jacob Proseilo
Nourish Market
#143-1233 Lynn Valley Road (Lynn Valley Village)
778.340.4030
www.nourishmarket.ca
[email protected]
Business Operating in Lynn Valley since: June 2011
Why do customers choose Nourish?
Our customers really like the convenience of shopping with us.  We have what they're looking for without having to go through the hassle of shopping at the "big stores".  One of our regulars likes to say that he used to go through an hour-long ordeal of shopping before and now he can do it in 15 minutes with a smile on his face.
We read all of the labels on our products so they don't have to. This means that there is nothing in our store with any artificial preservatives, colours, flavours, sweeteners or hydrogenated oils.  We take the time to get to know our customers; you are never rushed or standing in line when you shop at Nourish Market.
What do you appreciate about your customers?
Our customers really love "real food"!  They are foodies just like us and get excited trying new things and sharing recipes.  They realize the importance of shopping locally and supporting the small-scale artisan producers. They also care about the environmental impact of the choices we all make each day.
Got a Nourish-ing tip for us?
In a pinch, a "Pie Hole" pie or Earnest Ice Cream makes a great substitute for breakfast!
What are some of your other ventures?
This year marks 30 years since I first started working in my family's grocery store in Saskatchewan. Yes….I was two, haha  🙂
Any hobbies?
First and foremost, cooking and eating!!!  We love walking our dog at the Headwaters, biking, skiing, taking Jake to swimming lessons, and just puttering around our yard.  We also really love camping in our 1966 Aristocrat Trailer.
How about community involvement?
Nourish Market is always happy to donate to local charities.  Last year we donated thousands of dollars in food, gift baskets and gift cards to dozens of local groups and schools.  We support all of the events here at Lynn Valley Village as well,  and sponsor the Live In Lynn Valley Village Concert Series.
Tell us something we don't know about you.
I don't eat bacon every day.
What has the business taught you?
Patience… I want everything to be the way I want it right now!  In real life, that doesn't happen.
Future plans and possibilities?
We would love to launch an online ordering and delivery system for the area.  We are also currently working on launching our Nourish Points system which will allow customers to collect points (without a card) from each purchase. These points can then be used to pay for future purchases or donated to local schools to support their programs.
Further down the road, we would love to see a re-imagining of the corner store all over the city. Little Nourish Markets in each neighbourhood serving up real, local food to the real locals. Then after that, complete Nourish Market world domination.
You favourite quotation?
"Look after the little things and the big things will look after themselves." Frank Lloyd Wright