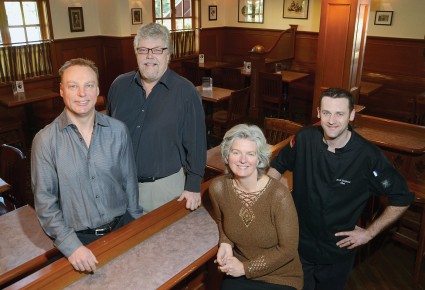 Black Bear Neighbourhood Pub 
1177 Lynn Valley Road
North Vancouver, BC
604-990-8880
BUSINESS OPERATING IN LYNN VALLEY SINCE: February 1997
Why do you have such a loyal following in Lynn Valley?
Well, the Bear has great food and 20+ craft beers on tap. Guests can come for a quick lunch and coffee, a snack, or a full evening for dinner with friends (our weekend brunches are super popular, too!) Mondays are now Trivia Nights and more and more people are coming, with up to 15 teams competing. The Bear is easy to walk to, it's on the bus route, and it's also safe to leave your car overnight for free. It's also a meeting place for over a dozen local teams to wind down after practises and games. Whether you're 19 or 99, it's a friendly place to be!
What can you tell us about your customers?
We like to see the familiar faces of our regulars; we know them and they know the staff. They become like friends and family. They let us know when things go right or when something needs tweaking. They want us to be successful; they feel a sense of pride in that. We like the sense of humour that abounds often and the energy that they provide. We appreciate their loyalty and try to demonstrate that.
As successful publicans, do you have a business tip for us?
Always have a signature dish that you're known for – our South West Tortellini Recipe has a huge following of fans!
Can you tell us about some of your other ventures?
The owners of The Black Bear built and began operating the Queens Cross Neighbourhood Pub, plus the Cold Beer and Wine Emporium, at Queens and Lonsdale in March 1979.
Currently, they own and operate the Spirits of Mount Seymour Liquor Store in Parkgate Village along with the Black Bear.
How do you support your community?
We sponsor or assist over 50 different organizations in fundraising.  We have raised over $10,000 for the North Shore Disability Resource Centre by donating 50 cents from each quesadilla sold at the Bear. We sponsor the Lynn Valley Black Bear Community Band, and we support the Vancouver Whitecaps – we have draws for tickets frequently!
What don't we know about you?
I was almost called The Rain Barrel Neighbourhood Pub, because of the weather!!
What's the Bear taught its owners and managers?
To treat customers as you would like to be treated yourself in any other fine establishment. And value your staff! We are proud to say that many of our employees have been with us since we opened in 1997, or before. We delight in the accomplishments of the many staff members who have put themselves through school while working at the Bear.
Any future plans?
We are looking forward to the Bosa redevelopment of Lynn Valley Centre, including the hub concept and the prospect of more residential multifamily dwellings. The future is exciting!
Do you have a favourite quote for us?
"You miss 100% of the shots you never take." -Wayne Gretsky
Email:  [email protected]