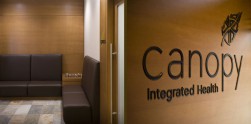 Alison Taylor 
Canopy Integrated Health
149-1233 Lynn Valley Road – Lynn Valley Village
604-973-0210
www.canopyhealth.ca
This new multi-disciplinary centre has been offering a variety of health and healing services in Lynn Valley Village since January 2011. Here's a peek at our chat with owner Alison Taylor:
 What's special about your customers?
We love to create a relationship with our clients over time. It's so nice to walk with them on their road to better health.
What do your customers say about Canopy?
Our patients often comment on the beautiful clinic design, the cheerful practitioners and how fantastic it is that we've opened here in the heart of Lynn Valley Village.
What else do you have going on?
We have two sister clinics on the North Shore – Village Physiotherapy in Edgemont Village and Kinetic Rehabilitation Centre in Central Lonsdale.
Got some hobbies?
My kids! Avery is four, Liam is two, and Jonah is four months, and they were all delivered by Canopy's fantastic midwives!
How is Canopy involved in the neighbourhood?
We recently sponsored one of Lynn Valley's concert series and are often involved in local sporting events, such as the recent North Shore Overlord bike race, where we had Massage Therapists, a Naturopathic Doctor and a Chiropractor out treating the athletes.
Tell us something we don't know about you.
Hmmm… I'm addicted to office supplies and filling out forms. Preferably with pretty-coloured pens and highlighters. I'm a bit of an office supply nerd – it's a problem.
What has the business taught you?
People are everything. Nothing is more important that surrounding yourself with talented, passionate, professional people.
Got any future plans?
We look forward to adding more practitioners and clients to Canopy's family as the business continues to grow.
What's your favourite quotation?
"Do not let there be judgment where there is not compassion."
Email: [email protected]