Fionna Finden and Jen Notte 
CuckooKits 
3051 Sunnyhurst Road
604-649-1167 and 604-726-5366
www.etsy.com/shop/CuckooKits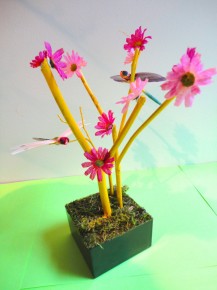 Business Operating in Lynn Valley since:  October 1st, 2012
What's unique about your business?
CuckooKits makes craft kits that are inspired by the beautiful nature that surrounds us in Lynn Valley. Customers appreciate our celebration of the outdoors, and that their children enjoy putting their kits together. Parents like that our business is local, that our kits our stylishly packaged, sharply priced, educational and make great gifts. Children enjoy creating their own mini natural gardens and forests, and reflecting on the beauty of the creatures that live there.
Tell us about your customers…
We love that our customers share our desire to give gifts that are stylish and educational. Our craft kits reflect a whimsical take on nature. As parents ourselves, we love that our customers want to bring simplicity in play back to their children. We believe our customers are savvy and stylish!
Do you have a tip from the business for us?
Did you know that slugs have four noses? Or, that hummingbirds can't walk? Nature is full of weird and wonderful facts!
What are some of your other life accomplishments?
Jen and Fionna have gone to school, travelled, been roommates, been in each other's weddings, and had children (three for Jen and two for Fionna) together. It was only natural that we start a business together, too. Jen lives in Delbrook with her husband and three kids, and works part time in an architecture firm. Fionna lives in Lynn Valley with her husband and two kids, and works part-time teaching Grade 6.
What are some of your hobbies?
Jen and Fionna love to hang out in the forest collecting fallen twigs with their kids to turn into magical twigs for their CuckooKits. They enjoy travelling, boating, and hanging out with friends and family.
How about community involvement?
Fionna and Jen volunteer at their kids' schools, are found in the mornings at a variety of kids' soccer and hockey games and in the evenings at Brownies and Beavers meetings.
Tell us something we don't know about you!
Fionna still has a sparkly red drum set that she bought from a garage sale when she was 10.
What's the business taught you?
To be flexible, do 10 things at once, learn from the advice of others, and not be too hard on ourselves if an idea doesn't work out the first try. You just have to try a new way!
Future plans?
Jen and Fionna are endlessly inspired to create new CuckooKits. In the future they plan on bringing CuckooKits to a larger market, and eventually branch into wedding and event decor.
Favourite Quotation:
"If he's for ya, he'll no go by ya."
This is said with a Scottish accent, and is guaranteed to mend broken hearts.
Email:  [email protected]