We are collecting nominations for Lynn Valley's Good Neighbour Award until Dec. 19, 2012. We'd love to hear, and share, stories about good-hearted folks who have gone out of their way to help you or their community, in ways large or small.  Nominees don't have to be your 'next-door' neighbour, just a fellow citizen of the Valley.
This contest isn't about deciding who's 'best' – it's about celebrating all those kindnesses that we know happen in our neighbourhood every day of the year. The winner of this year's Good Neighbour prize package will be drawn at random, and announced on Dec. 23. Please send your submissions to [email protected].
KELLY JENNER NOMINATES ROSEMARY POSTLEWAITE
AND DARLA AT WAVES:
"We have some amazing folks in this community and I would like to nominate two people who have made a difference to how we are able to serve the neighbourhood….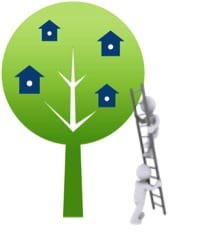 The first person I would like to nominate is Darla at Waves Lynn Valley.  I know she donates to many groups/ organizations, but her generosity with Lynn Valley United Church is awe inspiring.  She has provided coffee for every Friday Night Live performance since its inception a year and a half ago.  She also contributes coffee to the congregation for Sunday fellowship once a month.
Plus, she donates coffee for special musical and social events, from the monthly drumming circle to the recent "Sounds Like Christmas" community concert.  All given with a smile and the request to just ask if more is needed.  I am not sure how a business can succeed with that kind of generous spirit, but Darla is doing her best to make it work that way.
The second nomination is for Rosemary Postlethwaite.  This shy and unassuming elder in the LVUC community has spent the past 10 years collecting bottles from neighbours for her "sandwich filling fund."  This fund is used to buy meat, bags, condiments and other supplies for the 500 sandwiches that this congregation makes every month.
The sandwiches are shared out to the homeless through a network of social workers with the North Shore branch of the Canadian Mental Health Association, ensuring the people in this community are nourished by this community.
Rosemary has had some major health scares this year, and after spending 54 years in a little house on Westover has moved into "Branches"- but has insisted that she be allowed to continue supplying fillings and such for the sandwiches for as long as she is able.   Rosemary bears a strong pioneer spirit in the most quiet and gentle person you'll ever meet.  And she is the foundation of a project that feeds hundreds every month.  Simply put, she is amazing.
That's it from me right now, I could go on about lots of the folks I know who make a difference… the truth is that Lynn Valley is an amazing community because there are so many amazing people.  (Jim and Peggy- you are in there, too!)
Thanks for giving me this opportunity to do this "shout out"
Kelly
Kelly Jenner- Office Manager
Lynn Valley United Church
Thanks, Kelly, you're an amazing mover-and-shaker yourself! Thanks for adding so much to our community.