Live and Local is bringing some fantastic talent to Lynn Valley Village throughout the summer. Showcasing a range of styles, the plaza will be pumping mid-day on Tuesdays and some Thursdays and Fridays. Hitting the stage on July at 11 am is ReeVay Music.
---
Award-winning song writer
---
From his beginnings busking, Marc Rivest has been a student of music. First learning on the streets of Calgary, progressing to formal learning at Capilano University and now evolving into theatrical musical comedy.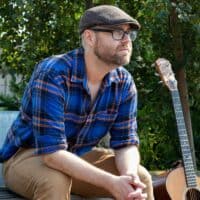 "I got started as a performer in 2014 when I was living in Calgary," said Rivest, "At that time I was a busker working for tips and Calgary train stations. That led to being accepted into jazz studies at Cap U – and having the funds to attend Cap U. Then when I graduated I thought about mixing my busker roots with my formal jazz training which led to creating the show I've been performing ever since."
The award-winning songwriter has been described as a mix of jazz, Simon and Garfunkel, and Cat Stevens. His playlist is vast, covering favourites and songs guaranteed to get audiences grooving in the sunshine. 
"I put material into my show for everybody that could possibly be present," said Ree Vay. "This includes some of my own songwriting, jazz standards, Celtic folk, pop covers, some Motown . . . "
Proud of his musicality, Rivest has continued his evolution. 
"The music is quite complex so I'm hoping that those that understand the language of music will be quite impressed with the arrangements," he said. "For those that are not, I'm hoping it's energetic and lively enough to get people moving."
---
New sounds, old favourites
---
After three years of the pandemic stifling public performances, Rivest has spent time heading in a new direction – a musical.
"The most significant project that I'm working on is quite different from my previous work," he said. "I've been working on creating a musical.  It had its first staging at the Ignite Festival in Calgary this June and I'm hoping to open it up in Vancouver in 2024."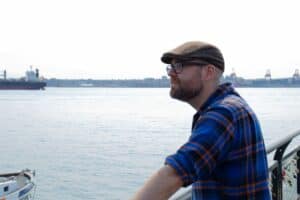 Called Tales from the Gym, the presentation is a work in progress that is growing and evolving. According to Rivest – it's alive.  
"Is essentially a comedic deconstruction of the character archetypes you would find in your local gym," he explained. "It's a musical comedy and at this point, a one-man show but I'm hoping to grow the cast In time for the next staging.  It is also what is called a living musical in that it's going to grow and change with every single performance."
Plaza performance
This summer is a return to the before times, with a Lynn Valley Village scheduled with weekly events. It's a chance to return to performing at community events.
"It feels so good to be out there performing again," said Rivest. "This is the first summer where it's been basically back to normal. I'm lucky enough to have quite a few shows booked  over the next few months – a lot of them on the North Shore."
As Rivest embraces the abundance of opportunities, he continues to develop his sound for these types of performances. 
"One thing that I'm doing new this summer is expanding the number of instruments I'm using.  Kicking off at the Lynn Valley show I'm going to be using harmonicas to fill out my sound and in the months to come I will be acquiring a loop pedal,  incorporating piano, bass, a full drum kit and backing vocals," said Rivest. 
Marc Rivest, as ReeVay Music, will hit Lynn Valley Village plaza on July 11, from 11 am to 1 pm.