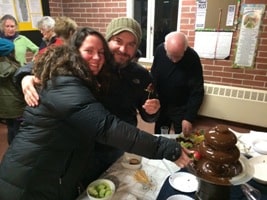 Ingrid Gossler
Kids' ClubHouse Child Care Centre
2034 Kirkstone Rd. North Vancouver, BC
778-340-0081
Business Operating in Lynn Valley Since:  June 2010
Here is what one client said they like about this Business:
"My son started at Kids ClubHouse when he was 13 months old. He is now four and has thrived in the care and education environment this child care program has provided.  The beautiful indoor and outdoor setting, qualified ECE educators, and loving atmosphere have been an extension of our family.  We feel this quality early program has supported our son's development and he is now ready for kindergarten!"  -Sue
Tell us what you love about 'your' kids.
We like the imagination, creativity and spontaneity every child has.  We love their honesty and enjoy seeing the world through their eyes.
Do you have a tip for us?
It's best to concentrate on the quality of care you choose for your child, and how well this care fits in with your family values and interests.  Quality is about relationships, and a quality care centre is one with strong staff-child relationships and excellent communication with parents.
Tell us about your other accomplishments.
I have a degree in Early Childhood Education and I have a Master's in English as a Second Language.
How about hobbies?
My hobbies are vast and varied.  I am an active person.  I am always looking for things to do.  I like walking, running, swimming, dancing, listening to music, reading, and writing.  I also love to spend time with my husband and son.  I also enjoy cooking and preparing desserts!
Any community involvement?
I am a board member for the Lonsdale Creek Daycare Centre Society.
Tell us something we don't know about you!
I am a second generation German, who was born and raised in Mexico.  I lived with my husband in Atlanta, GA for five years before moving to our beloved Canada.
What has the business taught you?
Being a childcare provider has taught me to be flexible, creative and passionate about my job with children.
Favourite Quotation:
"One hundred years from now, it won't matter what kind of car I drove, what kind of house I lived in, how much money I had in the bank, nor what my clothes looked like; But, the world may be a little better because, I was important in the life of a child." – Forest Witcraft
Email: [email protected]