John Toikka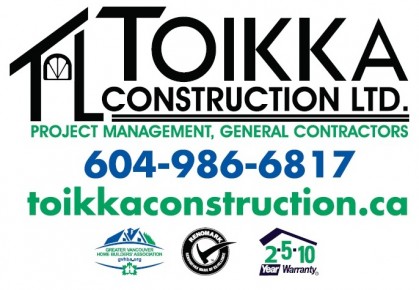 Toikka Construction Ltd.
#121 – 998 Harbourside Drive
604-986-6817
Business Founded by Lynn Valley's John Toikka in: 1990
What do customers like best about you?
Our quality through professionalism.
What would you like to say about your customers?
Our clients are the cornerstone to the ultimate success of our business.
What's a good home tip for us?
Never plant trees or shrubs to close to your home.
Tell us about your accomplishments.
Toikka Construction Ltd. has had 33 years of local and international experience in residential and commercial contracting. We are a respected member of the Canadian Home Builders' Association since 1989, obtaining the designation of "Certified Residential Builder" in 1990. Toikka Construction Ltd. is also a "Licensed Residential Builder" through the Homeowner Protection Office. As such, we have had the opportunity to successfully build and/or manage numerous high-end residential, light-commercial and institutional projects in Japan and the Vancouver area.
Hobbies?
Fishing, golfing, biking and hiking.
What about community involvement?
I coached Lynn Valley Little League Baseball and soccer for 10 years. I am a supporter of the Lynn Valley Lions.
Tell us something we don't know about you.
I'm a Certified Journeyman Carpenter.
What's the business taught you?
Without a happy customer you will never succeed! 
What does your future hold?
I'd like to complete more projects in my community and have my sons join the construction team.
Email: [email protected]
Check out the pictures below of Toikka's previous work!