Don't let the rain and cold get you down – that's perfect weather for book-browsing!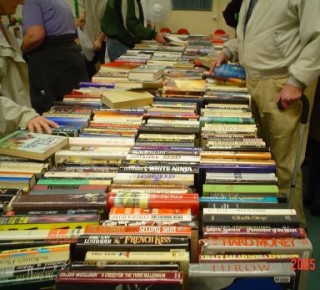 The Friends of the Library are having their semi-annual book sale this weekend, from Feb. 22 to 24 (see our Events Calendar for times).
Each sale nets thousands of dollars of funds for library purchases and improvements; the last go-round resulting in the new digital display and furniture in the Lynn Valley Library lobby lounge.
New books are put out each day, and on Sunday everything is half-price – or you can fill a bag for $3! Please remember to bring your own bag(s!)
Books not sold at the library events are donated to a non-profit organization called Reading Tree, which provides books to disadvantaged families, schools, and libraries.
"Joining the Friends of the Library is a great way to support North Vancouver District Public Library and to volunteer in the community," said Meghan. Amongst their other duties, Friends members:
advocate for library services and fundraise for library projects and resources.
organize book-sales and other fundraisers.
help at library events such as author talks and District Library Art Receptions.
Membership is $5 annually. Visit here to learn more about joining the Friends or pick up a Friends of the Library brochure at your local branch.