Dylan Roderick Brown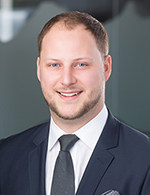 Financial Confidence Advisors Inc
#12 3175 Baird Road, North Vancouver, BC
604-629-2852
[email protected]
www.FinancialConfidence.com
Business operating in Lynn Valley since: 2013
What do your clients like about your business?
Our first priority is family. Running a family business with my father has given me a unique view of protecting families and their wealth. Through unique strategies clients get a fresh and simple look at their complex financial situation.
What do you like about your clients?
Every day I get to wake up, travel around, and talk to different types people. The best part about my career is that I get to learn from and grow with our clients.
Give us a money tip!
Financial goals are always a moving target. That is why it is important to review your situation regularly with financial professionals.
Tell us about your achievements.
I am a pretend a dad (step dad) of two amazing little girls, who have taught me more about life and why it is so worth living than any other education or life experience.
Any hobbies?
Living in Lynn Valley gives me access to a lot of different activities. I enjoy the abundance of fishing. Standing rain or shine at my step daughter's soccer games, shooting the breeze with the other parents. I have also been known to play video games when no one is looking.
Tell us something I bet we don't know about you!
I love Canadian Tire! I own a Star Trek cardigan and wear it frequently.
What has the business taught you?
Insurance can replace the financial loss, but it will never replace the emotional loss.
Do you have any future plans?
To buy more real estate from Jim Lanctot & Kelly Gardiner!
Tell us your favourite quotation:
My father always told me "You can't cook things cold!"