It's no secret that social isolation is a huge problem in Metro Vancouver, especially since the Vancouver Foundation published its June 2012 "Connections and Engagement" report quantifying the extent of the issue. And although Vancouver has a reputation for being a place in which it can be difficult to make new friends, the problem isn't just local. British coppers made headlines last year for having a cup of tea with a senior who had been driven by loneliness to make a call to the 999 emergency line.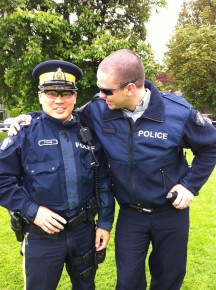 But it shouldn't be up to the police to respond to such needs – it's up to all of us. Fortunately, Lynn Valley is a hive of groups, activities and services that between them try to engage all the community's citizens in one way or another.
However, those groups won't thrive without help from the neighbourhood. Maybe it means offering a lift to a senior who doesn't drive at night to get them to some live entertainment at Friday Night Live. Maybe it means answering the call from Celeste at Mollie Nye House (as some of our readers have already done!) to volunteer to set up chairs for the bridge club or help out in the ESL classes. Maybe it means joining the Lynn Valley Community Association, the Legion, or the Lynn Valley Lions and contributing some of your energy to their fantastic work in the community. Or contributing to our neighbourhood's cultural life by joining the Lynn Valley Black Bear Band or the ByoV (Bring Your Own Voice) community choir.
One thing the Vancouver Foundation survey showed is that one reason people don't get out into their community is that they "have nothing to offer." Whatever your situation, it's almost certain that's not the case. Coming out to support events or groups as an audience member or attendee provides a huge boost to the organizers. Doing something simple, like handing out programs, making tea for a work crew, or putting up posters for an event, is sure to be appreciated.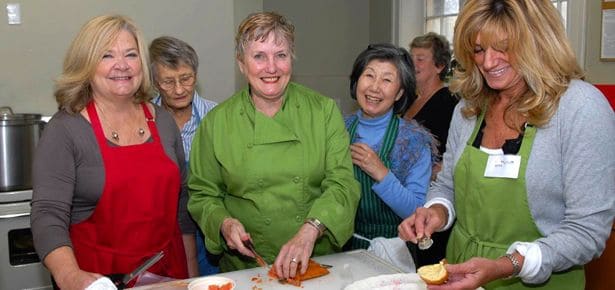 Most of all, it just means paying attention to each other and doing the simple neighbourly stuff that people have done for generations. Helping someone who is struggling with too many grocery bags. Knocking on the door to say 'hi' to someone new on your street. Doing what you can to make sure our neighbourhoods aren't about "keeping up with the Joneses" but "keeping in touch with the Joneses" – in good times and in bad.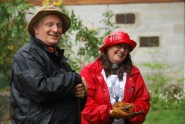 It's temptingly easy to bury ourselves in our devices when we're on the bus, in a waiting room, or even for the few minutes we're in a grocery line. But in doing so we forget to leave room for all those spontaneous human encounters that can lead to an interesting conversation, a shared laugh, or the chance to brighten someone's day.
At LynnValleyLife, we do our best do promote community building all year round. But we were moved to write this today thanks to a couple of impromptu conversations with strangers we had on our daily rounds this morning – one with a volunteer on her way to work at the North Shore Neighbourhood House food bank, and one with a fellow at the medical clinic, whose mobility was an issue but whose sense of humour was fully intact.
It reminded us how fortunate we are to be living here, and the proactive efforts that are always required to maintain and build a friendly community –  especially when its population is changing and growing.  So please consider deepening your relationship with your neighbourhood and the people in it – to that end, here's a list of some local organizations to get you thinking, or just start by taking a walk around your block!