Owen and Andrea Scott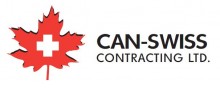 Can-Swiss Contracting Ltd 
3634 Henderson Ave, North Vancouver, BC
604-318-3942
[email protected]
www.can-swiss.com
Business operating in Lynn Valley since: 2009
What do customers like about your business?
Our customers like the honest, professional manner in which we conduct business. Our regular updates and open lines of communication solidify our clients trust with us.
Tell us about your customers!
We like the excitement and involvement our clients share in making their house a more beautiful home.
Have a tip for us?
Always use a timer on your bathroom exhaust fan to dry the room and reduce the risk of mould.
Tell us about your other ventures and accomplishments.
Spending quality time with my wife and teenage son.
How about hobbies?
Active member on the Steed Cycles Race Team. Competing on the Road, Cyclocross and Cross Country disciplines. Sipping good whiskey 🙂
How are you involved in the community?
Ride to Conquer Cancer in 2013 and 2014
Door to door canvassing for the Canadian Cancer Society
Many volunteer hours with Cypress Ski Club and dEVo Youth Development Cycling Team.
Tell us something that we don't already know about you…
I have 42 first cousins!!
What has your business taught you?
Always stay level headed.
How about future plans?
To continue providing great service in the industry.
Favourite Quotation:
Ride hard. Smile often. 🙂