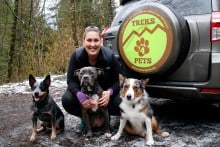 Chantelle Dawson
Treks 4 Pets
16044 – 1199 Lynn Valley Road, North Vancouver, BC, V7J 3S9
778-989-0991
[email protected]
www.treks4pets.ca
Business operating in Lynn Valley since: April, 2012

Chantelle's Articles for Pet Lovers:
Named Favourite Dog Walker in the North Shore News Reader's Choice Awards for 2015!
What do customers like about your business?
At Treks 4 Pets, we believe in smaller pack sizes, so that pups get more quality time with their trekker, and also a less stressful experience in the truck on the way to and from the trailhead.
We are licensed and although we are permitted to take six pups, just like all of the other pet services companies on the North Shore,  we choose to only take three at a time. We trek for 60 to 90 minutes and cover a minimum of five kilometres. Our clients love the fact that all of the pups wear GPS collars on the trail, so that we can see on our iPhones where all of the pups are at all times!
They also love that we use SUVs instead of capped pick-up trucks, so that the pups can have air conditioning in the summer and heat in the winter. And on top of the treks, we offer 30-minute neighbourhood walks, cat visits, dog boarding at our home here in Lynn Valley, and also dog training! Finally, many of our clients love the convenience of having Red Dog Blue Kat raw food delivered free of charge right to their freezer!
Tell us about your customers:
Where do I start?!? We love our clients, both humans and pups! They share our philosophy that smaller, calmer groups are a lovely way for pups to enjoy the forest. We love the fact that they don't think we are strange for referring to our pets as furry children! We love the fact that, just like our pup Sophie, many of our clients have more doggy jackets than we have human jackets!!
We love the fact that many of our clients are starting to embrace the raw food diet for their pups. Most of all though, we are an exclusively North Shore company, and we love that many of our clients also consider crossing the bridges to the city "overseas travel"!!
Can you give us any pup tips? 
As proponents of the raw diet and holistic approaches to pet care, we have many homemade recipes for everything from upset doggy tummies to homemade flea spray to de-skunking formulas.
1. If your pup has an upset stomach, replace their meal with the following (this would feed a 40-lb pup):
¼ can of organic sweet potato puree
¼ can of organic pumpkin puree
a dollop of plain organic yogurt
2. Instead of using a monthly flea treatment, try misting your pup with the following as often as you please! It has the added bonus of making your pup smell wonderful!
Boil a pot of water and add slices of a freshly cut lemon to it. Turn off the heat after the lemon slices have been added and cover the pot, letting the mixture steep overnight. In the morning, remove the lemon slices and pour the now cool lemon water into a spritzing bottle. Add 20 drops of lavender oil and give it a good shake. Spray your pup daily if you like, and more during the Spring and Summer months!
3. If your pup has an unfortunate run in with a local skunk, try the following concoction to get the smell out. Just don't leave it on too long as the hydrogen peroxide will lighten their fur!
One bucket of water
1/2 cup hydrogen peroxide
1/4 cup baking soda
2 tablespoons dish soap
Tell us about your other ventures and accomplishments. 
My very first job when I was 11 years old (clearly before child labour laws came into effect!!) was feeding the cats and dogs at the Animal Medical Hospital in West Vancouver before school each day. Since then I have always had a passion for animals and the nature around us, leading me into a Biology degree at Queen's University.
I considered veterinary medicine as well as becoming a medical doctor, but the call of travel was too strong, so I lived and worked abroad for the next decade of my life. When I finally returned home in 2011, I knew I wanted to start my own pet services company here on the North Shore, so I started laying the groundwork!
How about hobbies? 
I grew up on the North Shore, and as such, many of my hobbies are centered around the outdoors. I love trail running with my girlfriends, growing organic veggies in our garden, and surrounding myself with animals. I have been active in endurance sports for many years now, completing my first full marathon back in 2012, and also completing five Olympic length triathlons over the past few years.
How are you involved in the community? 
I am one of the founding members of BNI Upper Levels, a networking group of approximately 30 small business owners here on the North Shore. I volunteered as Vice President in its first year, President in its second year, and now, going into its fourth leadership team, I am volunteering as its Secretary Treasurer. Please do contact me if you need any referrals to great local companies!
I am also an active founding member of the NSPDA, the North Shore Professional Dogwalkers Alliance. I recently attended a meeting that the NSPDA had with the NSEMO, the North Shore Emergency Preparedness Office. Together, the NSPDA and the NSEMO are trying to create a plan for dogwalkers on the North Shore, so that if we are ever faced with a large disaster such as an earthquake, a flood, or a forest fire, we know how to respond quickly and effectively.
Tell us something we don't already know about you. 
I have lived and worked abroad in five countries across Europe and the Middle East, and I speak French and Spanish, having lived in both France and Spain for many years.
What has your business taught you? 
This business has taught me that it truly is possible to 100% LOVE what you do! Everyday that I get up for "work," I am happy and excited! My days consist of trekking with pups on our beautiful North Shore trails, visiting cats while their owners travel, and playing in our backyard with pups that are boarding at our home, so it's a pretty amazing life!
Favourite Quotation:
I have many favourite quotes, but the one on my office wall at the moment is from Charlie Chaplin – "You'll never find a rainbow if you're looking down!"