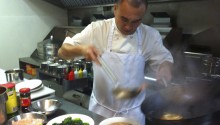 Kevin Li and Cindy Feng
Wonderful Szechuan Restaurant
1238 Ross Road, North Vancouver
604-988-9927            Take Out Menu
Business operating in Lynn Valley since: September 2013
What made you want to open a restaurant in Lynn Valley?
Lynn Valley didn't have a place where families could sit down and enjoy an evening out with Chinese cuisine. This is a place we want you to bring your friends to.
Is this your first restaurant?
No, we had one on Lonsdale earlier, and before that, Kevin was a chef for 10 years in China.
What can you tell us about your menu?
Szechuan food is known for being more spicy than Cantonese food, which is offered by most Chinese food restaurants in North Vancouver. But it's not all spicy – we have lots of milder dishes that people of all ages will enjoy!
Do you offer take out?
Of course! Have a look at our menu and give us a call. We're open seven days a week.
Do you have a cooking tip for us?
When you're shredding cabbage for stir fry, rip it, don't cut it!
What do you do when you're not at the restaurant?
We like doing lots of things with our two children, William and Vicky, such as visiting the library or going for a walk. And we do lots of grocery shopping for the restaurant!
Start to finish….what an amazing food transformation!