There aren't many North Shore residents who can get up from their dinner table on a Friday night, decide against another night in front of the TV, and, just 10 minutes later, be enjoying an evening of live music and comedy.
But that's the happy reality in Lynn Valley, where Friday Night Live (FNL) has entered its third season. Some things haven't changed – with a $10 ($25/family) ticket price and no downtown parking costs, you still can't beat the evening for value.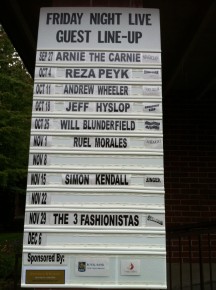 The performers, too, continue to be stellar. The cast of seasoned improv actors and musicians is headed by Alan Marriott, who launched his theatre sports career in Vancouver in 1980 before spending the next two decades training, performing and teaching in London, England.
Now he orchestrates a roster of fellow improvisers whose antics form the backbone of FNL. Joining them every week is a guest artist; the audience can expect anyone from a magician to emerging or well-known actors or musicians.
What is new this year is that more businesses are stepping up to lend a hand. Originally the brainchild of Lynn Valley United Church (LVUC), the event has turned into a partnership between various organizations who want to support close-to-home, quality entertainment.
Title sponsors this season include RBC, Grossman & Stanley, and LVUC, with support offered by others as well (including Waves, which donates complimentary coffee). The artists, too, pitch in by performing for an honorarium. Now all that's needed is consistent audience support to keep it all coming together.
"People often assume that if it's held in a church, it'll be preachy or hokey," says Shauna Grinke, a church member who used her business skills to create a marketing approach for the freshly updated FNL.
Just one visit, however, is enough to change their minds. Between the professional quality theatre sports and guests such as talented Vancouver musical performer Jeff Hyslop, word is getting out that FNL is a treat not to be missed. In 2013, it was voted one of the North Shore's "Best-Kept Secrets" in an Outlook newspaper reader poll.
Church administrator Kelly Jenner calls it "doing church in a radically different way." It's about building relationships within the neighbourhood, and creating a venue where people can gather to be inspired by uplifting entertainment. Given the large audience at last week's season opener, it seems the idea is definitely catching on.
The show starts at 7:30 p.m. at 3201 Mountain Hwy. For information about upcoming guests, visit www.fnlnorthvan.com.