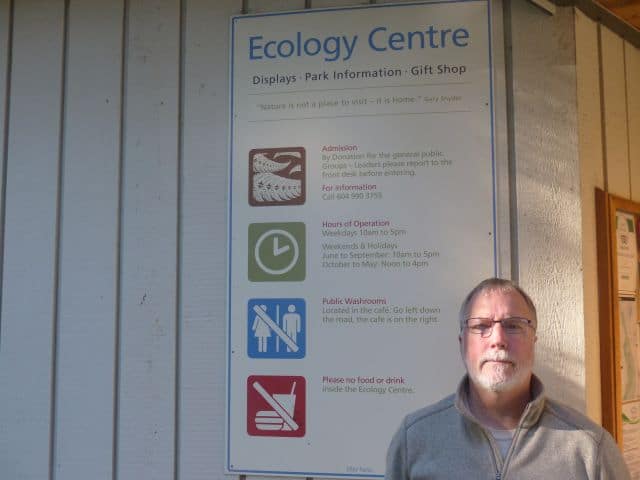 Are there really salmon found in Lynn Valley creeks? (Yes.) Are there really bears in Lynn Valley parks? (Of course.) Is it safe to explore Lynn Valley parks. (Yes, if you don't get lost.)  What's the best way to learn about Lynn Valley parks?  At the Ecology Centre, right in the centre of the park.
Since their doors opened in 1971, the Ecology programs and interactive exhibits have helped over 80,000 people each year learn more about coastal temperate rainforests and about local and global environmental concerns.
Lynn Canyon is forested park with stunning creek and waterfall views and hiking trails through what is known as a "temperate rainforest," a relatively rare ecosystem that extends along the coast of Alaska and British Columbia down to northern California. Here you will find second growth western red cedar, Douglas fir, and western hemlock trees draped with moss. In the rainy winter months, mist rises from the canyon and the creek rises dramatically. Look for spectacular waterfalls near the Lynn Canyon Suspension Bridge or Twin Falls.
The Ecology Centre Museum building is designed in the shape of a dogwood, British Columbia's provincial flower. In 1971, the District of North Vancouver decided to celebrate British Columbia's Centennial with a project that would contribute to the District over the decades to come. Exhibits in their Plant Gallery showcase the fascinating world of temperate rainforest plants. The beautiful mushroom models, displayed in the Fungi Kingdom exhibit allow visitors to easily identify the common mushrooms they see in Lynn Canyon Park. Kids can discover the amazing history of an ancient wildlife tree. Learn how farming practices can support or undermine soil and water quality.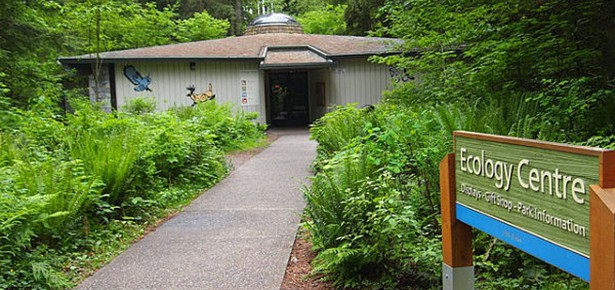 The Ecology Centre hosts a huge variety of programs for school kids, parents and families. Expert speakers are booked for selected for walks and talks. The programs often sell out early, so best to check their website far in advance and book early. You'll find them at http://www.lynncanyonecologycentre.ca/index.html. Phone 604-990-3755. Sign up for their e-newsletter and get updates on all programs.
The park is open 7 am to 9 pm in the summer, 7 am to 7 pm in the spring and fall months, and 7 am to 6 pm in the winter. (Gates are closed after those times.) Hungry for a snack after a walk in the woods? The Lynn Canyon Cafe hours at this time are Wednesday through Sunday 10 am to 4 pm. Please refer to their website for bookings and rental information. Google www.butlerdiditcatering.com. Phone 604-984-9311. Enjoy!
By Staff Writer