By Robin Thorneycroft, contributing writer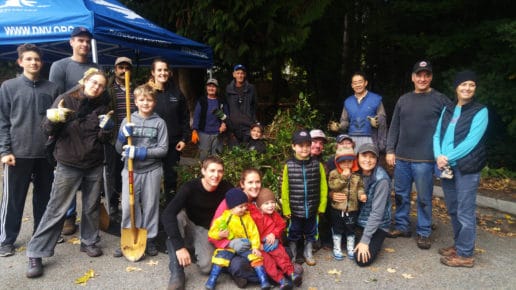 Lynn Valley residents will have a chance to wrestle with nature and leave one of our most beloved parks a little healthier on the weekend.
The District of North Vancouver is hosting a Free The Tree ivy-pulling event in Lynn Canyon on October 28th from 10am-1pm. The event is open to all members of the public and all tools will provided. Two additional events will happen throughout the District in November.
"The district has an invasive plant management strategy for all invasive species. You more frequently hear about species like knotweed or giant hogweed," said Stephanie Smiley, communications coordinator for the district of North Vancouver. "It is not possible to eliminate these species entirely but we do try to control them in areas where are causing either social, ecological or economic problems or harm."
Next Saturday, volunteers will join parks staff to hear short talk about ivy and its effects on the forest.
"There will be a little tutorial on how to cut back ivy and safely remove if from the tree and the forest floor," said Smiley. "Then the staff and the volunteers will get to work pulling ivy. And then they will go in and plant native species like ferns."
While it is an ambitious schedule, past events — like last month's Hunter Park volunteer invasive species pull and last week's Hasting's Creek Riparian Restoration — are seeing plenty of hands showing up to work. At Hastings Creek neighbours of all ages — from toddlers to seniors and everyone in between — got their hands (or gloves) dirty to tackle the projects.
Besides being outside in our beautiful forests, one of the biggest draws for volunteers is the chance to make a difference on the health of our parks and forests.
"One the things that pulling this kind of invasive species from the forest does is that it improves the general health of the trees and the general health of the forest," said Smiley. "What they do is cut away the ivy from chest height down, so in terms of the tree, about four or five feet up and what that does is separate the ivy from its root system and that lets the ivy passively die off.
"In the case of ivy, it wraps itself around the around the tree, it traps moisture, it reduces air and light penetration to the trees. It also adds weight and wind resistance to the trees. So by removing it improves the overall health of the trees."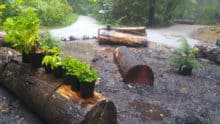 Lynn Valley residents volunteering at Oct. 28's event or those out just enjoying a walk in Lynn Canyon may also notice some ongoing upgrades and restoration to the picnic area. Over the past few months the gravel paths have been upgraded, some logs and mulch have been added and this week native species have been planted.
"The planting is funded by money that was actually donated by a film crew that was working in the area," said Smiley. "It was one of those instances where film production often like to make an offer of good faith or thank you to the community for allowing them to come in and use the space. They worked quite closely with parks to have a conversation on what to do."
"It's one of those wonderful things we don't often talk about. In this instance, we wouldn't necessarily get to do it without the contribution of the film industry.The impacts of the community are coming full circle," said Smiley.
Smiley acknowledged that our local parks are facing challenges of seeing more people than ever before.
"It is one of things we grapple with," she said. "We are seeing a tremendous increase to the visitors to our parks. A lot of that stuff [maintenance and restoration] is becoming more necessary simply because we are getting more visitors."
To join the Free The Tree Ivy Pull and habitat restoration on Oct. 28, meet in the Lynn Canyon parking lot at 10 a.m. Tools and light refreshments are provided, but please dress for the weather. Similar events will take place Nov. 4 at Wickenden Park in Deep Cove and Nov. 18 at North Bridgeman Park.
For more information please email District Community and Parkland Coordinator Megan Cooper at [email protected] or check out the volunteer Meet-Up online group.