Months of work have come to fruition, and this Saturday Lynn Valley Centre will be unveiling its new look.
"The theme of the renovation is 'Bringing the outside in'," said Lynn Valley Centre Manager Lorelei Guthrie. "We have a lot of elements like wood, and series of photographs of mountain trails – it exemplifies the great things the North Shore offers."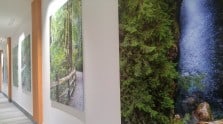 There will be new washrooms, new seating areas, new art and new merchants arriving soon.
"We are excited about Miniso," said Guthrie. "It is a Japanese retailer expanding into Canada and we are one of the first five locations in B.C."
The new store will be opening before Christmas in the centre court near Winners, said Guthrie.
This Saturday, November 18, festivities will take place from 11 a.m to 2 p.m. From 11 a.m. to noon Save-On Foods will be presenting a reception, followed by the official ribbon-cutting and art unveiling at 12 p.m. The event also includes live musical performances, Mrs. Picasso's face painting, and a kids' Totem Pole craft station.
The next few days will be busy ones – by the end of the week there will be new soft seating and a new bistro area arriving.
We know we are a part of folks' coffee trail," she said. "We want to offer places to slow down and have a conversation. It's quite amazing how many regulars we have and we want them to have a space to catch up."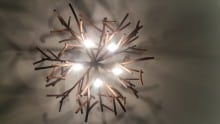 The key attraction to this weekend's opening is the unveiling of Jeremy Humpherville's sculpture The Return. The wood and metal sculpture is one of three First Nations' works that will ultimately adorn the shopping centre.
"It's beautiful," said Guthrie. "It depicts the salmon return. It will be hung at the rear entrance near the washrooms. We wanted something that was reflective of the North Shore and B.C. This is an homage to First Nations who are here."
The renovation was not without hitches. The 43-year-old floor proved to be a wild card in the process. Different parts reacted differently to removal, making the resurfacing project a challenge, said Guthrie.
While the work inside is largely complete – or will be by the weekend – the exterior work will begin next year in conjunction with the cladding on the The Residences at Lynn Valley. And parents will be pleased – a new play area will arrive after Christmas, said Guthrie.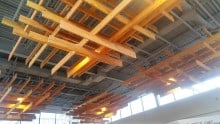 To mark the grand reopening of Lynn Valley Centre, visit Saturday Nov. 18 from 11 a.m. to 2 p.m. In addition to the ribbon cutting, art unveiling and kids' activities there will be a sidewalk market sale presented by retailers at Lynn Valley Centre. For all the details visit the Centre's website.