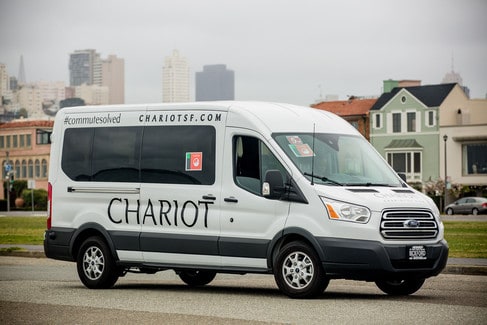 You've heard of ride share companies like Uber and Lyft? Using an app service that links would-be drivers to clients, anyone can become a taxi driver. Provincial officials in British Columbia have not given the green light to the service but admit that enforcement of such services is nearly impossible. Now there may be competition to Uber and Lyft coming in the form of Chariot.
Ford Motors is buying the app-based shuttle service and partnering with a bike-share company as part of its ongoing effort to expand its traditional business.  Chariot currently operates 100 14-passenger Ford Transit vans in San Francisco and the surrounding Bay Area. The shuttles routes are determined by users' needs. Ford says it plans to expand the shuttle service to five more cities over the next 18 months.
Ford is partnering with a company that runs bike-sharing programs in 11 U.S. cities. Ford says it plans to increase Motivate's San Francisco fleet from 700 bikes to 7,000 bikes by 2018, using bicycles made in Detroit. It also will increase the number of stations where riders can rent bikes. Ford GoBike will be accessible through its FordPass app, which launched earlier this year.
FordPass would allow Ford car owners and non-owners to use the app to co-ordinate shared rides, rent cars or bikes and link up to public transportation. Ford is also creating a team that will work with cities around the world to propose solutions to traffic congestion and run pilot programs like shuttle services.
Half the world's population now lives in cities, and in the next two decades may grow to 60 per cent. Cars are becoming to expensive to own or drive in big cities.  Ford has been running shuttle programs in Kansas City, New York and London for several years. Algorithms developed by Ford and Chariot will be used to map out the best route for the shuttles. Perhaps getting in and out of Lynn Valley could become a bit easier.
By Staff Writer