LynnValleyLife loves to profile local artists from all walks of life. If you're a Lynn Valley musician, writer, artist, or other performer, let us know and we'll send you our questionnaire! Here's our latest interview, with visual artist Kevin McKay:
How long have you lived in Lynn Valley?
My wife and I have lived in Lynn Valley now for four years.
How would you describe the type of art you create? Have you always painted, or have you worked in different genres?
I always drew for fun when I was growing up. I'm a self-taught artist with a vast imagination. When I was young I mainly used shading pencils, pencil crayons, and felt. I would create cartoon characters and landscapes. I would colour them in, practice shading and bring them to life that way. I continued that from very young to about 20 years old, and I still love to colour and shade drawings in.
Then around the age of 20 I started taking the drawings I did on paper and put them onto canvases using acrylics. This made the characters and landscape pop out way more.  I've always had a love for graffiti.   The big colourful pieces always attracted me. I would sketch out letters and create a background then colour it all in with the acrylics.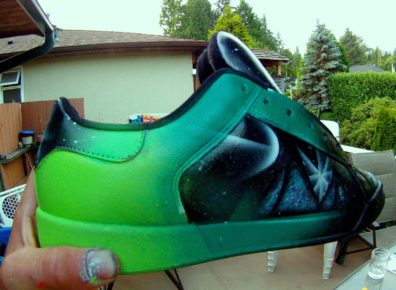 Then about five months ago I was flipping through YouTube videos of graffiti artists when I saw this other style of painting using spray paint. People were creating planets and detailed landscapes using paint, magazines for texture, lids off of jars that act as a stencil for the planets, sponges, pallet knife. Mainly everything you can find in your own home.
This style really intrigued me, so I went down to Opus and picked up some spray paint. The first one I tried was a simple space scene. It came out so cool. From that first canvas I was hooked. From there I have progressed from simple space scenes to advanced nature scenes, with mountain ranges, waterfalls, trees, bushes. The spray paint changed my style from very cartoony landscapes and characters to more detailed, true landscape pieces.
I'm an aspiring artist who works landscaping during the day and paints it by night.

Do you work alone, or take part in some sort of artists' community?
I mainly work alone. I have done one demonstration before at Opus Art Supplies. It was a two-hour demo on different techniques. I am open to more demos for sure!  I also do custom orders. Each piece I do for someone, I film and edit the painting as it comes to life. I recently took part in the Anonymous Art Show down at Cityscape. I sold two pieces there in the first hour of the opening night.  My main focus on art is progression and to be able to inspire people as I go along!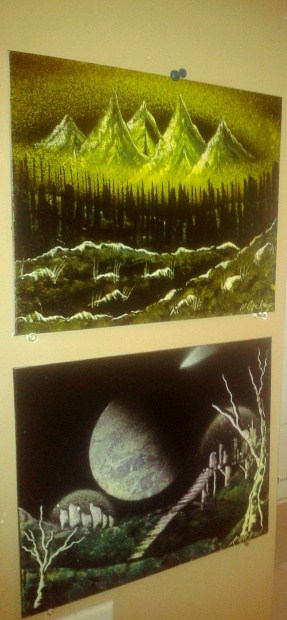 What inspires you to create works of art?
Nature is a huge inspiration! I have spent many years in Lynn Canyon, cliff jumping and hiking around the entire park. The river and waterfalls through there are a big inspiration as well.
What do you do with your finished pieces?
Currently I have a lot of them on my wall. I will be taking some canvases and other art pieces down to a Gallery called "Art Addiction" at 138 Pender Street. It is a gallery that is starting up and already has beautiful collection of art.
Can you tell us about one or two of your favourite pieces?
My first favourite piece would have to be the snowboard I painted.  The board was unusable so I turned it into a piece of art, I call it "Mystic Forest" I like it because the greens pop out so nicely and I just think it all flows nicely.
The second one would have to be one I recently did of Twin Falls. It was my first try at it, and was from memory. I like this because it has opened a new set of paintings. I am going to be doing one of 90-foot pool, focusing on the jump known as "gateway".
What are some of your other hobbies or accomplishments?
I have many other hobbies.  Some are cliff jumping in the canyon in the summer, and soaking up the sunny weather on the rocks at Thirty Foot.  I've made a movie of a summer in Lynn Canyon. It's on YouTube under "lynn canyon locals."
Can you tell us a bit about your 'day job'?When I'm not there I can usually be found riding my BMX around various North Van and downtown spots. I love hiking, kayaking, and basically anything outside.

How can people see or learn more about your work?I work for "Sequoia Landscaping."  We do driveways, patios, pathways, and retaining walls.  My favourite thing to work with is paving stones. I love doing big driveways, there is definitely an art to all of it – that's why I enjoy it so much, I guess!
Currently I have a Facebook page:  http://www.facebook.com/pages/Outhere-designs/437828496265306
I'm in the middle of getting a website up and running so stay tuned!
Kevin McKay
Outhere designs
604-839-6182 Email: [email protected]