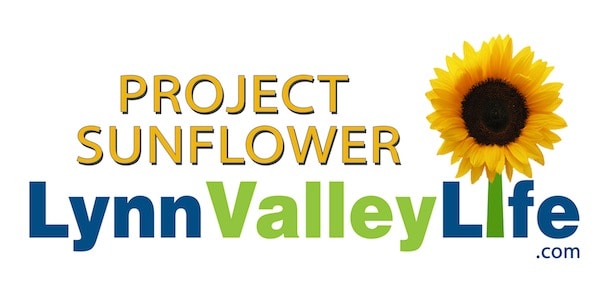 From the garden of Lynn O'Malley…
This was going to be a celebratory post about the fact that my sunflower seeds poked their heads above the soil last Saturday, a scant week after I detailed their planting in this post.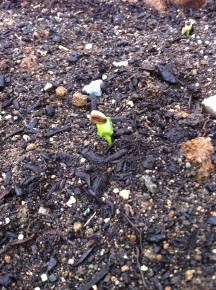 While I would like to take credit for this feat (the packet said 15 days was more typical), I begrudgingly have to acknowledge that the week of wonderful sunshine probably counted for a lot more than the loving care with which I plunged the seeds the requisite half-inch into the soil.
But then came the rain! Just as these seedlings started to muscle upwards, stretching their leaves out to shed the split black shell they had outgrown, the heavens opened. Would it batter them into the ground? Would the sodden soil attract an army of slugs?
I couldn't stop the rain – and certainly couldn't do anything about yesterday's fierce hail storm – but I could give at least some of my sunflower charges a protective home.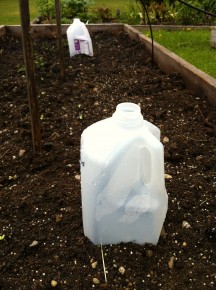 I have been urging my children to drink increasing quantities of milk so that I can cut the bottom out of the empty milk jugs and use them as mini greenhouses (and hopefully, slug gates) to protect the seedlings. They aren't the most attractive element in my garden at the moment, but perhaps the most useful.
On the good news front, the seedlings have been largely left alone by the birds (I have been forever distrustful of them since a Stellar's Jay ate my whole crop of sweet peas 25 years ago. I admit I've had trouble moving on.)
More good news came from staffing a Project Sunflower table at last weekend's Lynn Valley Garden Club sale. It was fun talking to so many avid gardeners, to hear how their sunflowers are doing (a number of people got a jump on me by starting them indoors), and to sign up more participants in the Project Sunflower campaign. Below are the Radcliffe family, who will be receiving their seeds in the mail this week!