In the wake of Monday night/Tuesday morning's flash flooding that closed Argyle Secondary, required the evacuation of at least 17 Lynn Valley homes, and has left some in our neighbourhood temporarily homeless, school principal Liz Bell sent out this Tuesday late afternoon update. It is reprinted here with her permission:
Hello Argyle Community,
I thought I would take a moment to bring you all up to date on the current condition of our school.  As you know, the banks of Hastings and Fromme Creek could not withstand the tremendous amount of rain last night and resulted in flooding.  I am certainly aware of the damage and devastation for some families in the area and I wish them all the best as they dry out.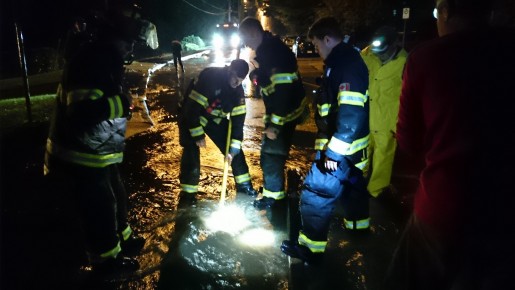 As for the school, we have had overwhelming support from so many: the emergency first responders, both police and fire; the NV District staff who did their utmost to manage the flow of water; the NV School District response team who attends any event at a school, even in the dead of night; our own incredible custodial team who normally finish their shift at 11:00pm and stayed until 7:00am; and to the students who appeared at the front door at midnight to offer their assistance.
As the dawn broke, five Barclay Restoration trucks were parked outside the front doors and by 9:00am over thirty of their staff were hard at work mopping, cleaning, packing boxes and beginning the restoration of the eight affected classrooms and communal areas. Assessment of the damage is ongoing with concern for the silt that was in the water.  No organic material can be left under cupboards, shelves, carpets or tiles due to potential residual damage over time.
We anticipate that the affected classrooms will be closed for this week and possibly next.  Classes will be temporarily re-located to the library and available rooms throughout the school and staff have already begun to prepare for the move.
Luckily, and thanks to quick work, most resources including textbooks, electronic equipment and musical instruments were moved out of harm's way late last night by the custodial staff, myself and volunteer students. We will continue to assess any damages that "float to the surface" in the coming days.
I certainly would like to thank the entire community of Argyle Secondary and Lynn Valley for the support of the school and of neighbouring families.  It is in times like these that the true spirit of the community shines brightly and through the coordinated effort of many hands, I trust that events of last night will continue to be managed effectively and efficiently.
WE WILL RE-OPEN ARGYLE ON WEDNESDAY MORNING FOR REGULARLY SCHEDULED CLASSES and are excited to have staff and students quickly re-engage in teaching and learning.   We do ask that STUDENTS WHO HAVE LOCKERS IN THE NORTH 200 WING PLAN TO GET ALL MATERIALS FROM THEIR LOCKERS ON WEDNESDAY MORNING THAT THEY MAY NEED FOR THE DAY – further access to that hallway will be limited during the cleanup.
We also look forward to welcoming our parent community on THURSDAY NIGHT'S PARENT TEACHER INTERVIEWS and, in the tradition of Argyle, we extend an invitation to community members who would like to join us for our Remembrance Day Assembly that will go ahead as scheduled on Friday, November 7th at 11:00am.  Please let us know if you plan on attending by contacting the Main office at 604-903-3300.
Please check the school website for further information at http://www.sd44.ca/school/argyle/Pages/default.aspx
Here's to the reality of life and the blessing of community.
Elizabeth Bell
Principal
Argyle Secondary School