By Robin Thorneycroft, contributing writer
Twenty years ago, in the clatter and din of Lynn Valley's Black Bear pub, like-minded locals gathered to chat about some community concerns. Now, two decades later many of those same people – along with many others – are celebrating the grassroots success of the North Shore Mountain Bike Association.
"The North Shore Mountain Bike Association was founded because there was a threat to Lynn Valley bike trails," says Christine Reid, executive director of the NSMBA. "At the time the trails were created by people – by mountain bikers – who saw a need for them to be taken care of. They were spending a lot of their volunteer time and effort to maintain them and they thought they were going to be taken away. So they started advocating and realized they need to form an organization to represent the people who use the trails to talk to the District of North Vancouver, with Metro Vancouver and any land manager to ensure that these trails could remain and that they could be maintained, worked on and be environmentally sustainable."
The History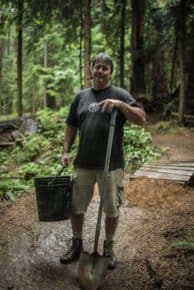 For the uninitiated, our backyard, our local hills – The Shore – are world famous. Lynn Valley resident Todd "Digger" Fiander began building trails here more than three decades ago, back when all bikes were rigid "hard-tails." He, and others, began building the trails that brought riders. Riders began pushing themselves and their bikes beyond their limits, says Reid.
"He was trying to create a fun experience, and because of the work he did, mountain bikes began to change," says Reid. "More people began to come to North Vancouver. And the bikes began breaking as the riders tried to keep up with the trails and then the bike industry began changing. They saw how the trails were changing and how people were riding their bikes here. The bikes began to evolve."
Advocacy
In many ways Lynn Valley has mountain bikers to thank for is vast network of trails – beyond the Baden Powell (and other backcountry trails)," says Reid. The majority of accessible multi-use trails were built by people who want to mountain bike on them and continue to be maintained by mountain bikers, she says.
Today the mission of the NSMBA is Trails for all. Trails forever. It works hard to consult with hikers, dog walkers and other land users. When they advocate for trails with land managers (Metro, CMHC, District of North Van) they try to represent the all users.
Recent years have brought growing membership which is adding up to more advocacy clout.
"We saw last year with CMHC what the power of representing 1,200 people can do," says Reid. Last year the Canadian Mortgage and Housing Corporation closed access to parts of Mt. Seymour. NSMBA advocates and members were essential in getting the decision reversed.
As the association marks its 20th year its member numbers have hit 1,800. Each one shows the importance of the trails to locals and the community support for mountain biking, says Reid.
"But we think that is only about five percent of mountain bike users," said Reid. The association urges riders to buy a membership – it helps fund trail maintenance but more importantly indicates participation and supports the association's advocacy work.
The Work
A typical year for the NSMBA brings more than 5,000 volunteer hours over 100 trail maintenance days.
"Many people don't know it is volunteer mountain bikers doing most of the repair work on our trails – all trails – not just the biking trails, says Reid.
Think about that. Each weekend, North Shore-trained builders oversee multiple groups to restore our trail system. The association hosts a free academy for members to learn the most recent and environmentally sustainable techniques to build lasting trails. Those that graduate the academy volunteer even more of their time to the trails. There is funding from the District of North Vancouver to support the work and pay some part-time employees but the vast majority of hours are donated by volunteers, says Reid.
To celebrate its 20th year the association has ramped up its work – with close to 7,000 hours volunteered their year to trail maintenance.
"This "corps" (The Shore Corps – trained and dedicated volunteers) extend their hours off the trails doing much of the advocacy work," says Reid, under the direction of the Association's 12 board members. "It takes hours of time and planning."
"We have learned a lot over the years," says Reid. "We work with International Mountain Bike Association which has developed best practices, to choose the best fall lines, to minimize erosion, to make changes to topography – that's for new trail building."
Building new trails is actually very little of the NSMBA does. The majority of the work is to maintain what is there, says Reid.
"We started five years ago to look at what is there and worked to bring the trails up to standard and maintaining to the best practice standards. This means the trails last longer. We consider how hikers and other users use the trail. We reflect and make changes. "
The Payoff
The work is reaping rewards. A economic report released this month from the Western Canada Mountain Bike Tourism Association determined in 2016 more than $12 million in visitor spending in North Vancouver is directly attributed to mountain biking.
The North Shore Mountain Bike Association is celebrating its 20 years of shredding, building and advocating with a member party this weekend on Nov. 4.
The majority of Lynn Valley residents use our local trails each year. If you would value the work and advocacy it takes to maintain donate some time help or buy a $40 membership and have a voice at the trail table – biker or not.
"If you can do either one of those things, it's so significant it means our voice is louder and people are listening" says Reid. "It shows you care about these trails and you stand behind us. We have the trails now and yes we can do the work to build and maintain them but that doesn't mean it is forever. There is always work to be done on the trails and off the trails."