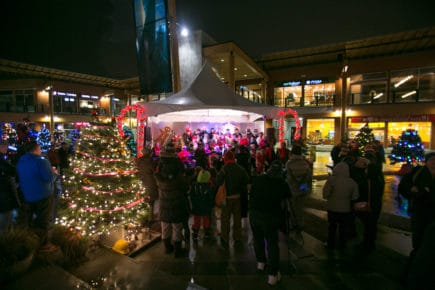 Lynn Valley's recent snowflakes make this announcement from the Lynn Valley Community Association timely indeed.
The festive Lynn Valley Village Christmas Parade of Trees is celebrating its seventh year lighting up the village square with colours, lights, and greenery.
Sponsoring a tree is a great opportunity to promote your business or organization, while at the same time supporting families in need and helping build a strong community here in Lynn Valley.
You can sponsor a tree for $250, with $50 from each sponsorship donated to the Harvest Project helping those in need in our community. Any other net proceeds support the work of LVCA in the community such as our speaker series, trail improvement projects and community events. At the lighting ceremony we collect toys for the Lynn Valley Legion Toy Drive. Your sponsorship goes a long way!
New for this year: an opportunity to upgrade your sponsorship. Event sponsorship is just $500 and includes two trees, one for yourself and one to be donated to a local elementary school to decorate. In addition your name and logo will be included on all flyers, web site and social media, as well as on site signage.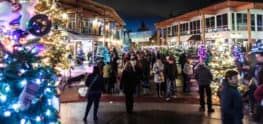 This year we are also offering choice of tree location to those who send in their cheque or send us their e-Transfer to [email protected] on a first come first serve basis.
You are encouraged to decorate your tree as creatively as you like: the public votes for their favourite tree and there are awards for the best trees!