Over the past number of years, the plight of refugees has become increasingly real to those of us in North Vancouver, as news photos have brought home the desperate circumstances of men, women and children trying to find safety… and those who perish trying. Lynn Valley folk are among the many in Canada who have stepped up to provide a safe place to land.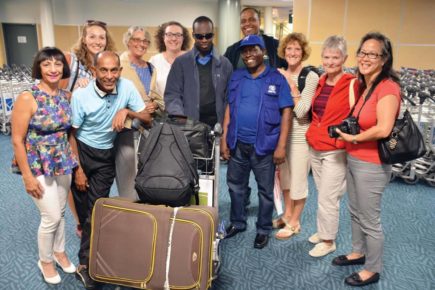 Various individuals, organizations and churches have tirelessly raised funds to bring refugees to the Lower Mainland – and waited, often months, to finally get the call saying that their chosen person or family will be arriving at the Vancouver airport within days. From then on it is a full-on press to secure inexpensive housing (!) and donated furniture, and to swing into action providing English language practice, orientation to riding transit and other aspects of a totally unfamiliar culture, school registration, visits to doctors and dentists, instructions on how to shop for food, and simple companionship.
REST is the Regional Ecumenical Sponsorship Team – a group of North Vancouver Anglican, Lutheran, and Presbyterian churches (and friends) that over the last three years has successfully sponsored a number of Somalian and Syrian refugees to Canada. REST, which includes St. Clement's Anglican Church in Lynn Valley, is now preparing to sponsor seven more refugees from the Democratic Republic of the Congo, Iran and Syria.
A major event at St. Clement's on June 2, 2018 (6 to 9 p.m.) will help raise part of the necessary $27,000. The REST FEST will feature live music from a variety of talented musicians, as well as a silent auction and bake sale. Items to be auctioned include meals catered for a group at your home – a Syrian dinner or a gourmet waffle brunch, for example – personal fitness training, beautifully sewn quilts and afghans, gorgeous gift baskets, and much more. A table of locally crafted pottery will also be for sale. The bake sale at the intermission will keep people happily snacking during the rest of the concert, which will feature a number of local musicians.
The REST FEST would like to make sure this is a sell-out event, as 100 per cent of the proceeds will be used to settle the refugees into their new life. Tickets are available online at this link, and further details (such as how you might donate a silent auction item!) are to be found here on the St. Clement's website. St. Clement's is located at 3400 Institute Road, opposite Lynn Valley Park.