The Sixth Annual Lynn Valley Village Christmas Parade of trees is approaching, and we are already looking forward to seeing Lynn Valley Village transformed into a magical forest of decorated Christmas trees.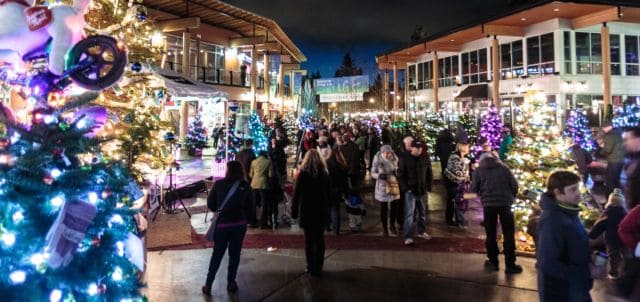 If you want to get in on the fun, now is the time to sponsor a tree and start thinking about your decorating approaching! Says the Lynn Valley Community Association: "Sponsoring a tree is a great opportunity to promote your business or organization, while at the same time supporting families in need and helping build a strong community here in Lynn Valley."
$50 from each $200 sponsorship supports local families with needed food and gifts and any other net proceeds support the work of LVCA in the community, including the speaker series, trail improvement projects and community events. Dry goods and canned products for the North Shore Harvest Project are also collected at the grand lighting ceremony, which takes place this year on Sunday, December 4.
The LVCA encourages sponsors to decorate their trees as creatively as they like: the public votes for their favourite and there are awards for the best trees! Trees will be decorated on Saturday, December 3.
For more information or to sponsor a tree please email [email protected]. Cheques for sponsorship should be made payable to Lynn Valley Community Association and mailed to PO Box 16080, 1199 Lynn Valley Road, North Vancouver, V7J 3S9.