Imagine suiting up with all your scuba gear and diving into tranquil, picturesque Buntzen Lake. Instead of pristine lake waters you find garbage – piles and pile and piles of garbage.  A November 2013 dive and its astonishing outcome inspired Lynn Valley's Henry Wang to start the organization Divers For Cleaner Lakes and Oceans.
---
---
"I had never dived in a lake before and it looked so beautiful," said Wang. "What we saw underwater was a ton of garbage. We took all that we could carry but we couldn't carry it all out. So we took another trip… and another. It was kind of a start but it took seven trips to get somewhere – and that was just one area."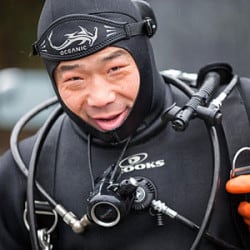 Wang, his dive partner and others volunteering to do the work were heartbroken to learn from park rangers that wasn't even the worst spot. It was a normal spot, not where drinking and partying happen.
"People have no idea what's under the water," said Wang. "
We think of beautiful B.C. and see so many photos but you can't see the garbage."
You may have stumbled across Wang with his prominent North Shore ads on Facebook that both offer moving/hauling services and showcase his group's work – and profits are used to fund DFCLO (and his services seem to have very high reviews).
---
---
"Last year we did a clean up with BC Parks at Cultus Lake and pulled out 1,500 pounds of garbage," he said. His team tends to target the same locations year after year to try and maintain the work they have put in to clear them. Annual trips to Cates Park and Deep Cove can recover 500 to 1,500 pounds. This year's Rice Lake clean-up recovered 36 pounds of garbage.
"It's mostly fishing line and the wheels line is rolled on," said Wang. "Every year we recover 35 to 75 pounds and it's always fishing gear mistakenly dropped off dock – maybe the odd cellphone or pair of sunglasses. It's not typically a drinking spot so it doesn't get as bad."
It is not quite so simple in West Vancouver's Caulfeild Cove.
"We have removed 1,500 to 1,700 pounds of garbage and there is still more," said Wang. "There were derelict boats there and the people living on them were just dumping their garbage. There are still three sunken boats no one wants to pay to clean up."
He navigates municipal, provincial and federal regulations to complete this work. Wang says most governments are supportive and some in fact ask his group for help and then look after the garbage and debris they recover.
"The garbage is always taken away by the governing body. We have only had to pay dumping fees once and the operator ended up waiving them when he heard what we were doing," he said. "But when it comes to an entire boat who wants to foot a $10,000 bill?"
---
---
"People are surprised when they see what we are doing," said Wang. "Really?!? How did it get here? The garbage is here because you put it there."
With unprecedented access to our lakes and oceans, the problem is only growing. As an avid outdoors person he sees the problem above and below the water. Wang would like to see people take more responsibility for our environment.
"It should be simple – if every person took out their beer bottles and the garbage they made and picked up a small bag of things they come across we would live in a much more beautiful place," he said.
The group works in highly technical environments with little to no visibility and high risks of entanglement so they do not take volunteers.
"Because our dives are specialized we only use technical or caving divers," he said. "The number one question I am asked is 'How can I help?' Clean up on your own. If you see garbage pick it up – especially if you are near a water source. The garbage will get in it, flow out to the Pacific and end up in the great garbage patch.
"You don't need to do anything special – just pick up [garbage]."
Divers for Cleaner Lakes and Oceans works on a shoestring budget. The divers volunteer their time, governments haul the garbage but Wang does try to cover gas for his volunteers, some food to fuel the exhausting work and help some of the divers maintain some of their essential equipment. He does this by helping people move large items and haul items away. You can contact him via Facebook or the Divers for Cleaner Lakes and Oceans website.
Or just clean up as you enjoy the outdoors and make his work unnecessary.
Photos courtesy of Henry Wang