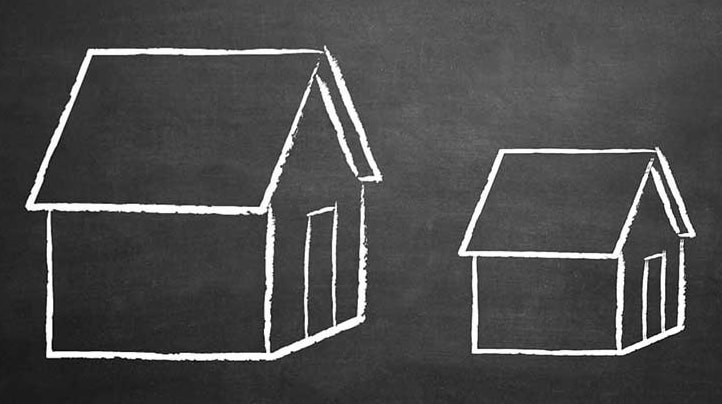 The fears most of us have about downsizing from the homes we've lived in for decades, raised our families in and filled with memories are very real to us but the good news is they are just fears. We still have the memories. And, hey, we're a bit tougher than that. Besides, fear has a way of evaporating when we don't fight it and focus instead on reasons to move on with our lives. The lesson we get to learn here is – there really is a new chapter waiting for us out there.
Now that's kind of exciting.
So if we come to downsizing with a plan, begin early and expect a few bumps along the way, the journey can be quite pleasant. It will most certainly be full of new experiences, new friends and not at all the terrifying grind our thoughts told us this would be. That's the way with negative thoughts it seems – all bluster and no substance.
Here are some tips to start the new journey. How about beginning the downsizing before deciding to sell the house. Getting rid of the clutter will help with the sale for sure. Consider that possessions hold energy. When we release them, we open up our capacity to absorb new experiences. Donating our possessions to those who will now appreciate them is a generous thing to do. It's cleansing, cathartic and actually fun.
So begin by creating a save pile, a sell pile, a donate pile, a throw out pile and an undecided pile. Then ask these questions as you sort:
Do I use it regularly? If so then keep it. If not add it to a pile
Does it have sentimental value? Items such as photo albums, collections, souvenirs and mementos are difficult. Family photo albums can be digitalized. And ask yourself would keeping a photo of the item do? If so then click away and add it to a pile
Here's a hard one. What about items you'd planned to use in the future? Now is the time to be realistic. Will I really ever get around to restoring that table or knitting that sweater?
And when the piles get too big for the space you've allocated make decisions on the undecided pile first and be brutal. Then pack, donate, make a trip to the dump and start advertising on Craigslist. Or try auction houses if Craigslist fails.
Some helpful resources:
Keep in mind that the less you own, the less that owns you.  And downsizing can reduce stress, create more interesting opportunities and certainly makes cleaning a whole lot faster. All of which allows more time to do enjoyable things. That alone can make it all worth it.
If you or someone you know has questions about downsizing, contact Jim, Kelly or Suzanne at 778-724-0112 or [email protected]