Interested in the local townscape? Polygon Properties will be at District Council on Tuesday, June 16 at 7pm, hoping that their bid to redevelop the site on 27th Street across from Safeway will be supported.
You can learn more about the proposal here. As envisioned in the Official Community Plan for Lynn Valley, the site would include new road connectors and pedestrian pathways to facilitate traffic flow within the evolving town centre.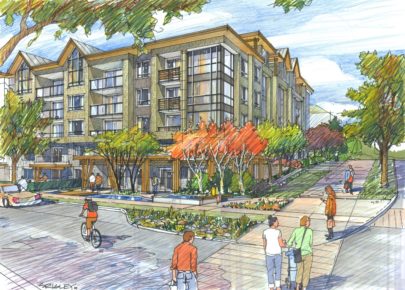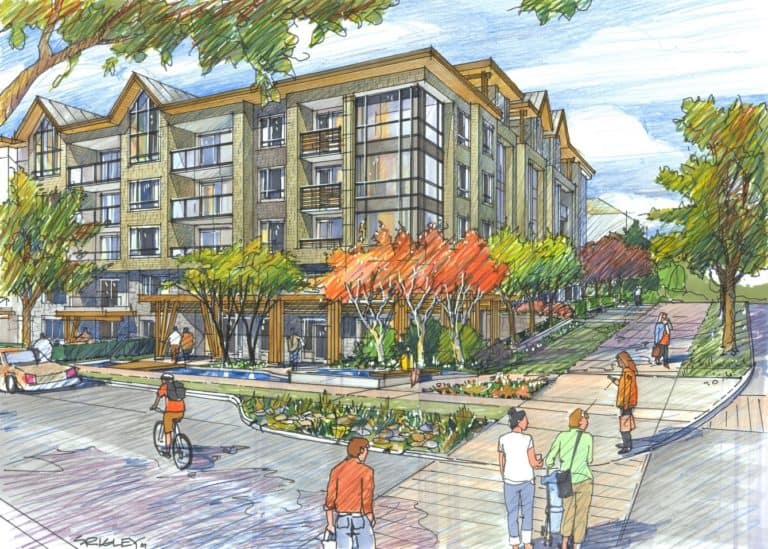 Despite the amount of multi-family construction taking place in North Vancouver, demand is apparently still strong. As Polygon CEO Neil Chrystal noted in our recent interview, the company's not-yet-completed Canyon Springs project on Mountain Highway and 27th has sold out, with approximately half the homes being purchased by market newcomers and half by older Lynn Valleyites downsizing from their single-family homes.
The proposed Mountain Court project includes four buildings, one of which consists of 75 rental units. On the block would be the current rental housing that has been on the property for decades; Polygon VP Hugh Ker told LynnValleyLife that residents are being offered compensation packages that average $5,000.00 per household, depending on the duration of their tenancy.
Learn more about the public hearing process and how you can give feedback by clicking here and scrolling down to the June 16 public hearing. Voices both 'pro' and 'con' the proposal have made themselves heard through letters and comments to council.