When he was growing up in North Van, Neil Chrystal remembers that "Lynn Valley was the tough community where you didn't want to go." Now, as the CEO of Polygon Homes, Neil lauds the decades-long transformation that has vaulted the neighbourhood into one of the North Shore's most popular places in which to live.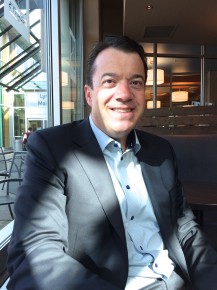 "There's probably no place more accessible to the outdoors on the North Shore," the avid mountain biker reflects over a recent coffee meet-up in Delany's. He thinks it is entirely in line with this lifestyle that North Vancouver District's Official Community Plan has earmarked our evolving town centre to have a "mountain village" feel akin to that of Whistler.
Polygon Homes – which Neil joined in 1987 as a freshly minted graduate of UBC's Urban Land Economics program – built the Branches development on Whiteley Court, and is building Canyon Springs at the corner of 27th and Mountain Highway. The company is now applying to the District for a new development, Mountain Court, which will be located on 27th Street across from the new residential buildings being planned by Bosa as part of the overhaul of Lynn Valley Centre. (For a description of the project, and its recent discussion by DNV council members, see this North Shore News story.)
Neil expected the Canyon Springs residences to attract largely younger, first-time buyers. However, he was surprised to find that the already-sold-out homes have been split almost evenly between market newcomers and older people, almost all of whom are downsizing from family homes in the Lynn Valley area.
While the increased densification of Lynn Valley has garnered its share of opposition, Neil says it's the ability of such multi-family developments to accommodate people's "cycle of life" within their own neighbourhood that make the new town centre concept so appealing.
His own parents re-located to downtown at one point after their years in North Vancouver, a move he says his mother found challenging as it meant a separation from easy access to friends and other longtime supports. And while he and many of his co-horts grew up on the North Shore and moved overtown as young adults, "Kids always want to come back to the North Shore," he notes.  "It's all about coming home."
When asked what gets him out of bed in the morning – besides an early morning fitness routine and a busy household that includes three teenagers – Neil says that it is the ongoing novelty of his job. Whether it is the approvals process, new design or marketing, "nothing about what we do is boring," he says. Although his education originally had Neil contemplating a career in urban planning, once he got into the residential field he never looked back.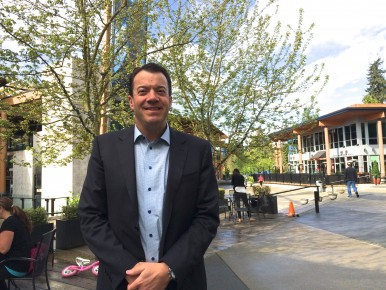 Novelty is a quality also enjoyed by Polygon's founder,  Michael Audain, who built the company in 1980 after careers as a teacher, social worker, and prison guard. He went on to earn the Order of British Columbia, the Order of Canada, and four honorary doctorate degrees, largely garnered due to his philanthropic work in the arts and wildlife conservation. (Polygon and Michael have each donated $2 million to Presentation House's planned art gallery redevelopment, and were major supporters of the Artists for Kids Gordon Smith Gallery on Lonsdale.) The company has also raised over $1 million for Union Gospel Mission over the past decade, through its annual Christmas raffle.
Neil says that Michael, now an active grandfather, has been a great mentor for the younger people at Polygon and has guided them to see the importance of "giving back" to the community. This month, some of Polygon's sponsorship support is coming our way, with the company's $5,000 contribution to Lynn Valley Day 2015 – a tip of the hat, perhaps, to the multi-generational citizens who have proven to be Polygon's avid homebuyers.