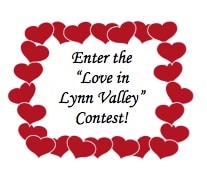 Win a romantic evening for two!
Celebrate a fun Valentine's night on the town, close to hearth and home! Start by enjoying a $50 dinner for two at the Black Bear Pub (they've promised their most romantic candlelit table!), then carry on to Friday Night Live's 
"Love to Laugh"
 show, featuring dance music from The Sharp Five jazz band, hilarious improv from Ad Libretto, and refreshments – including a chocolate fountain!
All you have to do for your chance to win this great evening (beside being 19+, of course) is to 
send us
 the nickname or term of endearment you use for your sweetie (or best buddy, we won't discriminate against singletons!) by 
Wednesday, Feb. 10 at 7 p.m
. We'll make the draw that night – so good luck, everyone! (And yes, we'll be publishing a post about LV's goofiest endearments – anonymously, of course!)
P.S. Psst! FYI, the prize must be accepted as awarded – all the fun to take place on the evening of February 14, 2014!