The North Vancouver Museum – the one tucked away quietly at Chesterfield and West Fourth Street for decades – is shutting up shop at the end of April.
That's good news – it's all in preparation for the exciting new museum to be built adjacent to Lonsdale Quay – but at the same time it's always hard saying goodbye to an old friend. So why not pop down for a look at the displays while you have the chance? Take a glimpse into the kitchens, school rooms and shops of early North Vancouver, and peek into the wall-mounted memory boxes that encapsulate the reminiscences of some of our neighbours who grew up here – among them well-known volunteer Del Dimock and North Shore News photographer Mike Wakefield, both residents of Lynn Valley.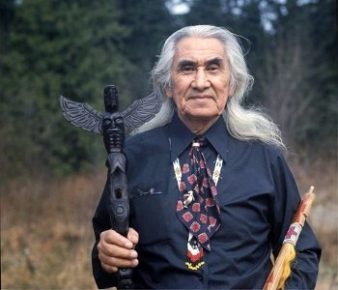 Featured currently is an exhibit on Chief Dan George: Actor and Activist, and it's a thoughtful window into the chief's extraordinary life that played itself out here on the shores of Burrard Inlet, on the ancestral lands of the Tsleil-Waututh Nation, as well as in Hollywood where George was best known for his role as Old Lodge Skins in Little Big Man, playing alongside Dustin Hoffman. Chief Dan George's voice continues to be heard in his evocative writings about the indigenous experience of the land, as in his collection of verse that includes the title poem, My Heart Soars.
The North Vancouver Museum is open by donation, from Thursday to Sunday, noon to 5 (closed stat holidays) and the address is 209 West 4th St.
From the old to the new, you can then take a trip into the much different environment of the Polygon Gallery, the modern silver-sided building located on a new inlet-edge walkway between Tap & Barrel and Lonsdale Quay. Open by donation until the end of 2020 with the support of BMO Financial Group, the Polygon Gallery is showcasing photos and artworks that reflect North Vancouver – past and present – back to its citizens in myriad forms and styles. Be sure to pick up the info-packed guide to the N. Vancouver exhibit, and visit the second-floor bookshop for photo and art books on a range of topics and places.
The Polygon Gallery is open from Tuesdays through Sundays, 10 a.m. to 5 p.m. More info is right here.