That "back-to-school" feeling that comes over us in September isn't just for the young 'uns. There's a huge range of community programs designed for adults of all ages and stages, so why not sharpen your pencil (or pick up your yoga mat, or harmonica, or smart phone) and join in?
Mollie Nye House on Lynn Valley Road is home to a variety of popular courses, both registered and drop-in. Operations Manager Celeste Whittaker is putting out the call to let Lynn Valley residents know that new beginner and intermediate classes in tai chi/qi gong and English-language training are starting, as is the popular Better Balance with Surefeet program. For information on these and other registered programs at Mollie Nye House, click here.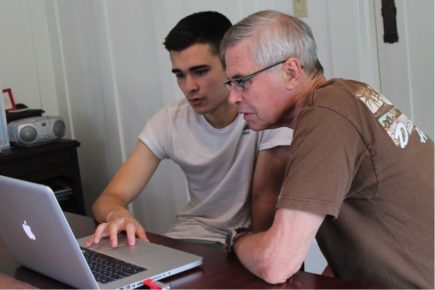 And if you're the kind of person who looks at your computer or smart phone and says "I just wish I knew how to…. (edit a photo, post a blog, send a text, etc)," the Tech Tutors program is your chance to learn how. Local high school volunteers are paired up with seniors for sessions on Wednesday afternoons or Thursday mornings. The students earn service hours for their high-school requirements and seniors come away having learned something new in a friendly environment! Cost is $2 per session and you can book by calling Sophia at 604-987-5820 or emailing [email protected]; all the details are right here.
Mollie Nye House is the heritage house located at 940 Lynn Valley Rd., and operated by the non-profit Lynn Valley Services Society. Learn more about this legacy from early North Vancouver schoolteacher Mollie Nye by clicking here.
There are also loads of program options for all ages being offered through  North Vancouver Recreation and Culture, and you can do a quick search for upcoming classes here.  Local library programs and events (including this year's book club sign up) are kicking in for the fall, too, so be sure to check them out.
And if you're the sort who likes to take your learning and "pay it forward," the North Vancouver Museum and Archives folks would love to train you up as a school tour guide – have a look! Docent information sessions are coming up on August 31 and September 15. Contact the museum's Education Program at 604-990-3700 ext. 8007 for more information and to register.
One way or another, there is plenty of opportunity to keep your mind working  and growing without even leaving Lynn Valley. Enjoy these last days of summer – and then Happy Back to School, everyone!