From the desk of Jim Lanctot:
I was out walking my kids to school one morning in mid-December when I stopped to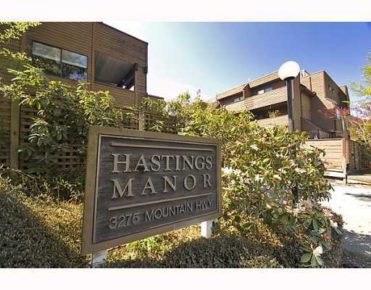 look at the renovations just finishing up at Hastings Manor, across the street from Lynn Valley Elementary. Like many people in the neighbourhood, I had wondered what had been happening underneath the blue tarps over the preceding number of months. I struck up a conversation with one of the foremen and he spoke highly of the project and the level of professionalism shown by the strata counsel. Curious, I tracked down strata Vice President Brian Kroeker and asked him to tell us more about the building's rejuvenation. Here's an edited version of our Q&A.
JL: What prompted the council to initiate the project?
BK: Every building will at some time experience water ingress issues. While Hastings Manor was built before the time of the leaky condo construction issues in Vancouver, nothing is invulnerable to the ravages of nature and time. Owners were beginning to see visible signs of the breakdown of their supporting balcony beams in some cases, while there were other signs of frequent water ingress at building corners and entry doors. Small areas of visibly degraded siding (from both sun and rain) were also apparent.
Luckily, two owners, one an engineer and one who works with engineers, prodded Council to get an engineering assessment done on the building envelope. This turned out to be a great move…. given our level of ignorance about construction, we needed leadership from people who knew what they were doing, who could be trusted.
JL: Once you'd had engineering reports done, what was the next step?
BK: The owners approached Levelton Engineering for a targeted repair project, and Levelton was indeed interested in working with Council on our proposal. For us, this made all the difference, and after the formulation of a formal proposal, Levelton was chosen by owners who accepted an assessment at one third of the cost of the first engineering firm's proposal.
JL: What further decisions were made?
BK: We decided to prioritize work according to advice from Levelton into high, medium and low-priority work, so that owners better saw what they were paying for. Our top priority all the way through the project was to fix all visible rotten structure. If siding was removed from any wall and rot was discovered, it would have to be properly remediated. Council felt that leaving any rotten inner wall components would have been wasting owners' money.
JL: Why did you feel having an engineering firm engaged was a good idea ­ was it worth the extra investment?
BK: Our overall ignorance of construction and who the "good guys" were made hiring engineers an easy decision. Plus, we wanted a document that the engineers would sign off on at the end of the project, assuring that the building was properly fixed. They also steered us toward the "good guys" in selecting appropriate bidders for our job.
Levelton's frequent status reports (with lots of pictures!), along with their attendance at a number of owner meetings, were invaluable in providing owners with a sense of where their money was going. Seeing a rotten wall exposed, then seeing it properly fixed is a very comforting feeling.
JL: What construction firm did you end up going with?
BK: Our contractor was Ocean West Construction. Their personnel on site were very friendly, courteous and respectful of the owners' privacy. They went the extra mile for us a number of times, giving us good value for our money and top-quality work.
They always seemed to work well with Levelton,  and were great at working out unique solutions to any challenges that arose.
JL: How do you feel the project has gone?
BK: Fantastic! Although we have not been able to accomplish every little thing, our project has met all of our initial expectations and then some. We were even able to do a few upgrades, and every owner got something to show for their money.
As with every complicated project … there were adjustments to be made, mostly correcting previous construction deficiencies and the extent of the rot discovered within our walls. We overspent the original budget by a long way, but in the end, we have many more walls fully rainscreened than was initially planned.
JL: What kind of investment has been made by the current ownership group?
BK: We spent about $1.7 million, or $50K per owner.
JL: What's the general feelings of the ownership group about the work that has been done, and what the future holds for Hastings Manor?
BK: People have commented over and over that the building looks fantastic now! The future looks bright for Hastings Manor after many years of owner neglect. People are looking forward now to sprucing up the grounds and enjoying their new decks and patios when the weather brightens up and gets warmer this Spring. With the success of this project, more owners have a "we can fix that!" attitude.
Some owners will feel ready to sell now, but they do so knowing that there is much better value in their building now that all the hard work is done and the building looks so much better.
JL: Is there anything that stands out that makes Hastings Manor a great place to live in your opinion?
Lynn Valley has it all, and Hastings Manor is within walking/cycling distance of so much of it. Shopping, schools, the new library and great bus service straight to downtown Vancouver make Hastings Manor perfectly placed for everyone, both young and old.
There are great, friendly people in our buildings. Some have been here only a short time, while others are long-term residents who know a good thing when they see it. People are now volunteering to serve on committees to improve their buildings even more. Council is very proactive and is motivated to keep up the process of incremental investment in Hastings Manor that is sensitive to owners' needs and situations.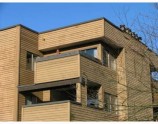 Talking to Brian, I could tell that all the owners are feeling great now that the investment has been made and the hard work is done. Some of the owners who had put their real estate plans on hold for the duration of the project are now starting to revisit their plans to put their homes on the market. If you are interested in knowing more about ownership in Hastings Manor, please contact me or my RE/MAX colleague Kelly Gardiner at 778-724-0112. We'd be delighted to help you explore the opportunity.