John Gilmour's name and face are familiar to anyone who has followed Lynn Valley issues and politics over the past few years – because if there's one thing John likes, it's meeting the people in the neighbourhood.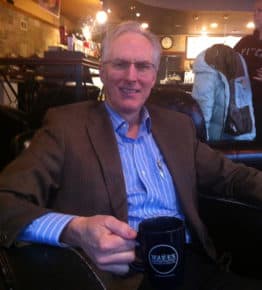 His self-confessed passion for networking started early. He never confined himself to one group of friends in high school, he told LynnValleyLife during a recent chat over a green tea at Waves; instead, he circulated among many different groups.
It's a skill that's stood him in good stead over his many years as a community volunteer. One of his first leadership posts, in fact, was way back in 1987, when as a recent BCIT marketing grad John became president of the Vancouver Junior Chamber of Commerce.
But community work soon had to take second place to home life. In 1992, he and his wife Susan started a family; Daniel is now 20, and Jenny is a 16-year-old Argyle student, but when they were younger four hands helped keep everything running smoothly when the kids were growing up.
Things changed in 2006. John was itchy to get involved in the community again, and was referred to the Lynn Valley Community Association. They welcomed him on to the board, and since then he's held roles from membership director to president.
While still an avid member of the LVCA, John has recently stepped off the board and is looking forward to serving the wider neighbourhood in a variety of other ways. Later this year, in tandem with other involved members of the community, he will be launching a blog called North Shore Futures. John points out that its acronym, 'NSF', is also a nod to NSF's alternate association – 'Non-Sufficient Funds.'
The blog intends to offer information and commentary about decisions being made in the local municipality, and their ultimate affordability. "There's not enough money not to pay attention," he said, noting that North Van District's cash reserves are not especially high.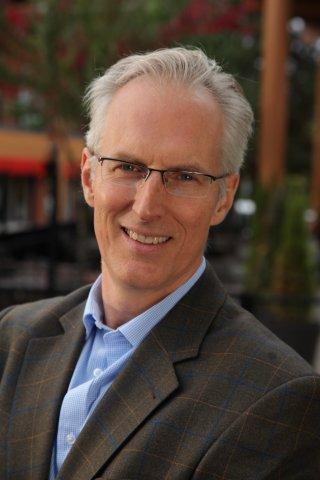 John says he does a great deal of background research before offering his opinion on local issues. "Sometimes the best solution might not be the most realistic solution," he says wryly. His day job as vice-president of marketing and development at Magusta Development, a company that builds affordable multi-family housing complexes, has helped him learn how to stretch a dollar to best meet the needs of the surrounding community. "We really do try to think about how it's going to be for people living there in advance. We don't just slap up a building. We give it a lot of thought."
Along with neighbourhood issues and urban design initiatives, John is also president of the Friends of the North Vancouver Museum and Archives Society and is looking forward to seeing the construction of a 15,000 square-foot museum on the Lower Lonsdale waterfront in front of the Pinnacle Hotel. He's always finding other ways of getting involved locally – when he spoke with LynnValleyLife, he and Susan had just hosted a Cool Neighbourhood evening to discuss reducing the eco-impact of the households in their neighbourhood around Ross Road Elementary.
But even though John's fingers are never far from the calendar and contacts on his Blackberry, this busy volunteer still schedules time to just enjoy Lynn Valley living.
He says a perfect Sunday would start with a morning at Valley Church, where he enjoys meeting up with the 500+ regular attenders.  That might be followed by eggs and pancakes at home, then watching some football or doing some flower and veggie gardening. His favourite home-cooked dinner is barbecued salmon on their large deck – ("We hardly ever eat indoors") – and he might cap off the day reading Bernard Cornwell's latest historical fiction, or watching a PVR'd Daily Show with Jon Stewart.
There are still mountains left to conquer – he's started ballroom dance lessons with his wife, for one! – and though John is contemplating a 10-year retirement plan, he expects he'll be one of those people who is even busier once the post-retirement years hit.
Whatever road John takes, we just hope it isn't one that leads out of Lynn Valley – he's far too valuable here!  We're sure his mom Sheila, the first executive director of the Capilano Community Services Society and a key player in many other local organizations, is pleased to see her son follow in her volunteering footsteps. Thanks, John – we hope many others follow your example!
– Peggy Trendell-Jensen, LynnValleyLife editor.