Some of the world's top ultra-marathoners will be participating in this Saturday's infamous Knee Knacker, a 30-mile run from Horseshoe Bay to Deep Cove along the Baden Powell trail, and Hilary Ewart is excited to be amongst them.
It's the second Knee Knacker for this Lynn Valley mom, and though she doesn't consider herself a natural runner – "I'm not built for it, " she claims – she says there is a mutual feeling of equality and respect at the starting line, regardless of ability.
"I've never been made to feel that I shouldn't be there," she said this week as she reflected on some of the races she's tackled. "Though I sometimes question myself."
It's hard to imagine anyone questioning Hilary's credentials when you look at her running CV. While she says she wasn't particularly sporty as a youth ("Honestly, if I can do this, anyone can"), once she started running, there was no holding her back.
She started as a recreational jogger, then decided to join her husband Ian as he trained for a half-marathon. That was semi-successful – she liked to chat the whole way, which drove him nuts – but it was the start of a pursuit that would end up changing her life and how she lives it.
Her determination (or, in her own words, her "obsession") kept pushing her to longer and more far-flung running adventures, encouraged on by the friendships she developed with other women keen to travel to races.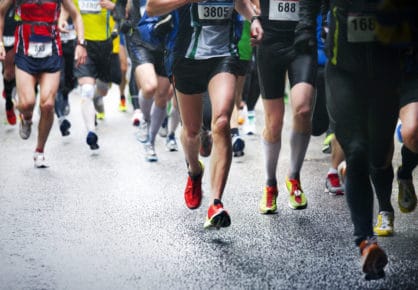 One of her favourite memories is accomplishing her very first marathon in her native Scotland, with her parents there to cheer her on. She still gets goosebumps recounting the pride with which her father congratulated her after her triumphant finish.
She's raced in Big Sur, in Paris, and in Wales. Along the way, she became bored with road running and decided to try her hand – or her feet – at trail running. "I can still remember my first run with the Knee Knacker training group," she recalls now. "It was humbling… it was really challenging."
But this is clearly a woman who likes a challenge. In August 2010, she decided the 15 months ahead would include the Dirty Duo race in Lynn Canyon, the Diez Vista in Burnaby, her first Knee Knacker, and, to top it all off, a three-day, 85-mile run in Wales. While she was admittedly burnt out by the end of that time, she says the Welsh race was one of her best.
"I don't know why, but I just felt wonderful," she says. "At times along the way, I was feeling euphoric."
People are always searching for that "runner's high," she says, although it tends to be elusive. It's more common to encounter the lows when you're running a tough course.
"You know the gremlins are there," notes Hilary. "Sometimes they don't appear; sometimes they spend the whole day with you. But you eventually learn that the bad feelings go away."
Hilary's health routine includes twice-weekly yoga, pre-race massages at Canopy Health, and keeping well fuelled during a run. She finds that her 'away' races can be easier, in that she's divorced from her daily responsibilities and can be "a bit selfish," focussing just on her challenge ahead.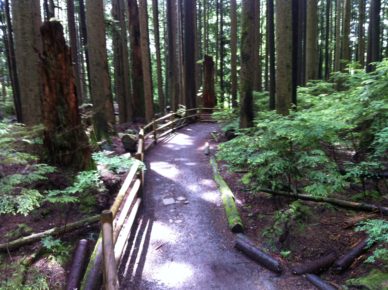 She has spent this week getting over her jet lag from a trip to South America with husband Ian, catching up on her human resources job at the College of Physicians and Surgeons of B.C., and dealing with a few butterflies as she contemplates Saturday's Knee Knacker – one of the toughest trail runs in North America.
She's done it before, but not in the heat that is forecast for Saturday. Between Horseshoe Bay and Deep Cove, she'll face 16,000 feet of vertical climb and descent, and hopes to complete the course in somewhere between seven to nine hours. "I'm a back of the packer," she chuckles, saying she is built for endurance, not for speed.
Anyone who tackles this run is an elite athlete in our book, regardless of their final time, and at LynnValleyLife we wish all 200 runners good health and good spirits. We'll be reporting back with Hilary's experience, and tell you all about her next adventure – a six-day stage race in the Himalayas this fall!
– Peggy Trendell-Jensen, editor
Update: We checked in with Hilary on Sunday afternoon, and were delighted to hear she completed the race despite the heat and the record number of runners who dropped out along the way. Our congratulations to anyone brave enough to cross the starting line, and all those determined enough to reach the finish line!