We like to offer special treats to our LynnValleyLife Network members whenever we can. So we're delighted to announce a special, LynnValleyLife-only reception at which our members will be amongst the very first to experience a brand-new neighbourhood just down the hill – before it's even built! Having the chance to visit the new Seylynn Village development before the general public brings some other bonuses as well – from preferred pricing to the widest selection of suites.
Seylynn Village is part of the new Lower Lynn Town Centre plan that will see a range of new development in Lower Mountain Highway. One of the first stages is the construction of the Beacon building, one of the high rises that will be situated  across from Seylynn Park (they are shown in the dotted circle below).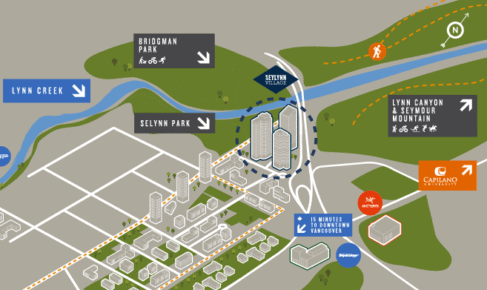 We've arranged for LynnValleyLifers to have a sneak preview of the Beacon's two bedroom and den, brand-new display suite and get access to VIP preview pricing before things open up to the general public.  Come on down from 6 to 8 p.m. on Tuesday, May 7, enjoy some refreshments, and experience what it might be like in this Denna Homes creation. If you're thinking of buying, it's a great opportunity to have your pick of the suites before they start getting snapped up – and, as you'll see below, there's good reason to think that demand will be high.
The buzz on this first-stage tower is that it is being priced at not much more than cost as it will serve as an anchor for the community-building that is to follow. There's certainly nowhere else on the North Shore that you can get into a brand-new, concrete building with quality finishings like triple-glazing at prices that start at $265,000 for a one-bedroom condo apartment.
Planned as part of the development are other perks such as an exclusive, residents-only private recreation club and a daycare facility. (Another attractive feature: traffic will be re-routed so that city-bound drivers will enter the highway straight from Keith Road; the current Fern Street access will be a thing of the past.)
It's a great bet for investors, too – its location near Capilano University and the bridge to Vancouver means there will always be someone anxious to rent there!  We asked local expert and LV merchant Mortgage Dave how the numbers would pencil out as an investment. Click here to see his take on this great opportunity.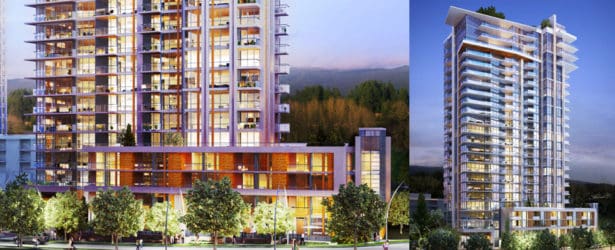 Seylynn Village's marketing team at Pacesetter Marketing has received a huge response to its initial publicity, which includes the chance to WIN a free home just for registering and visiting the display suite. There are only 5,000 "golden keys" for this contest, so be amongst the first in line and be guaranteed that you get one, thanks to your membership in the LynnValleyLife Network.
Given the prices of these homes, Seylynn Village sales managers Tammy Vogan and Monique Davidson both confirm the advance interest has been "epic."
LynnValleyLife sponsoring realtor Jim Lanctot says "We are excited that we've been able to arrange this evening for our LVL Network members. We wanted to give our local people the chance to be amongst the first in line to see what opportunities are out there in the neighbourhood. The Beacon building makes a great option for some of Lynn Valley's downsizers, first-timers and investors."
And we'd be thrilled if one of our LynnValleyLife members left holding the gold key that ultimately unlocks the door to a free new home!
For more information on the development, check out the Seylynn Village website. If you are unable to make the LynnValleyLife-only Open House on May 7, please contact Jim Lanctot and he will call the Seylynn Village marketing team to arrange an alternative showing.
(Graphics above courtesy of Denna Homes.)