Whether you call it the "Irly Building Centre" or still refer to it by its earlier moniker, "Woodstop Building Supplies," you'll be sorry to hear this Lynn Valley landmark is shutting down operations.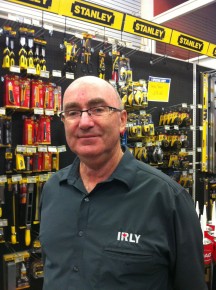 Trevor Stephenson, the co-owner who founded the store in 1978, told LynnValleyLife that he first went into business in the adjacent lumberyard, which had been abandoned by previous operators. Trevor believes it had been run as a lumberyard since the 1950s; he says a six (not seven!)-digit telephone number is still written on the inside of the warehouse door.
Five years later, Trevor built the building supply store and was joined by recent Argyle Secondary grad John Horsnel, who later became a co-owner of the business.
Over the years, Trevor says they have served many longtime customers; about 80 per cent have been contractors and 20 per cent homeowners. He's been in business so long, he says, that he's seen some contractors through their entire career. As for himself, he's still getting used to the idea of semi-retirement.
"I'm still in denial to some extent," he says. But he's warming up to the thought. "The beauty of retirement is the ability to be on your own schedule, not someone else's. I'm looking forward to that flexibility." That's no wonder, considering that Trevor has been up at 5 a.m. for the past 35 or so years, in order to commute from his Port Coquitlam home to be at work by 6:30.
But it won't be all play, no work. Trevor and John also own North Shore Door, which sells doors, windows, moldings and door hardware from its shop at 103 – 2433 Dollarton. John has been working full-time at that location for the past year, and Trevor intends to lend a hand to help the shop build its brand.
The owners have sold the property to a residential developer, a land use that Trevor feels is a better fit for that corner of Lynn Valley. They plan to close the lumber yard on October 31 (all materials are currently being sold at cost) and he says that from November 1 to December 15 the contents of the building supply sale will also be sold at cost. He hopes to have the business wrapped up by December 31.
Trevor says he'll definitely miss his customers and the relationships he's developed through his work. "It's not a job, it's a lifestyle," he notes. He asked LynnValleyLife to pass on his and John's appreciation to all their longtime customers. "We're awful thankful for their support over the years."
Trevor, John and the rest of the Woodstop crew will certainly be missed by Lynn Valleyites, most of whom will never have known their neighbourhood to be without this stalwart landmark. On behalf of the community,  thanks for everything and we'll see you at North Shore Door!