If you've always loved the character of Lynn Valley, you'll love watching Lynn Valley as a character.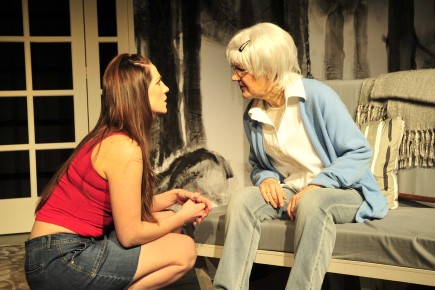 More properly, Lynn Valley is the setting of a play opening up at Hendry Hall – but given the theme of 2000, it's almost a character itself.
Playwright Joan MacLeod, who now teachers writing at the University of Victoria, was intrigued by life lived on the border between natural and human habitat. Producer and director Stephen Torrence says "The play examines how the natural and urban worlds are interwoven and how they each impact on the other; a topic  [so] germane to Lynn Valley, which exists in the midst of the rainforest." He says that Joan MacLeod is delighted the play is finally being performed in North Vancouver.
As you'll see in this good North Shore News overview, those who enjoy good laughs along with thought-provoking theatre entertainment will not be disappointed. Nor will those who love a bit of local history – there are still Lynn Valley residents among us who  remember the real-life "Nature Boy," an interesting man of the woods who is immortalized in the play as one of the characters.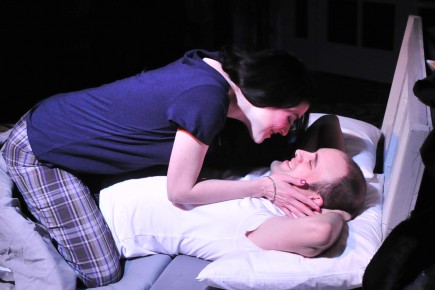 "We have a truly innovative and creative set that strives to illustrate the overlap between the natural and urban worlds, created by local artists and set designers," says Stephen.
Tickets are only $10 on the preview night on Thursday, April 6; opening night is Friday, April 7 which features an opening night reception and goodies to boot.  The show runs Wednesdays through Saturdays after that, closing on on April 22. To learn more about the production and get your tickets, just go here. Why not call up a Lynn Valley friend and make a night of it?
2000 is North Van Community Player's festival entry in the the Theatre BC North Shore Zone Festival of Plays, which runs at Presentation House from May 7 to 13. 2000 will be performed on May 11.  All shows in this year's festival are by Canadian playwrights, in honour of Canada's 150th birthday.  The show which is chosen as Best Production will go on to to Vernon in July to compete in the provincial festival.
(Photos: Actors Laura Burke and Karen Golden in the top photo; Kathryn Ferguson and Ryan Johnson are in the bottom.)