It must be something in the water – this little corner of the world has spawned pretty amazing musicians from of all genres.  On Friday, May 5, you're invited to celebrate Lynn Valley's rock legend with a performance by The Authentics.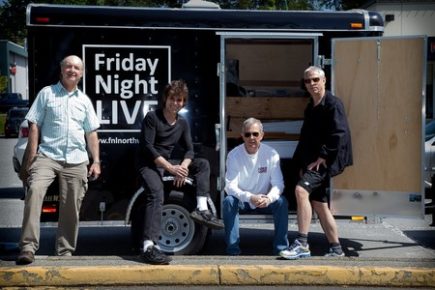 Two years ago, a few solo guests (including Al Harlow, John Hall and Rocket Norton of Seeds of Time, Prism, and the Rocket Norton Band) formed an ensemble band to celebrate the 100th performance of Friday Night Live. According to one organizer,  Kelly Jenner, "over two hundred people packed into the Argyle Gym for an epic reunion project that was so much fun for the guys they put together The Authentics, which went on tour last summer across BC."
Now an extended performance on May 5 at 7 p.m. offers an even more exclusive opportunity to hear these rockers take the stage. Tickets are $20 and are available online (Tickets) or from the office at Lynn Valley United Church. Seating is limited to 125, so don't delay! More info can be found right here.