Last fall, Canada Safeway and Bosa Development sent North Vancouver District some preliminary applications for a newly imagined Lynn Valley Mall area. Their plans called for high-rise towers that got the 'thumbs-up' from some residents, but also resulted in an immediate outcry from many people who were concerned about traffic, densification and a change in neighbourhood character. 
There was enough concern, in fact, that North Vancouver District Council voted to re-engage the public in a discussion about redevelopment options for the Lynn Valley town centre area.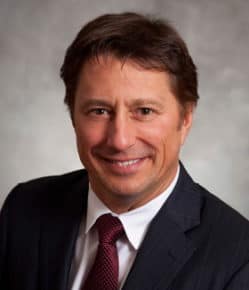 Now we've learned that Mark Sager, founding partner of Sager LLP and former mayor of West Vancouver, has been given the mandate to be the sounding board for the residents of Lynn Valley. He'll gather feedback, engage in conversations, listen to questions and concerns, and help Bosa come up with a new proposal that is in line with what the neighbourhood wants while being economically feasible for the developer.
"I am really, really honoured to be given this opportunity," he said over a coffee in Delany's. "Bosa is one of the most respected builders in Western Canada. They've said to me 'Go out, and then tell us what's the right thing to do here.'"
Nat Bosa, he says, lives on the North Shore. While leasing the old Zellers space to Target might be an easy economic answer, Mark says that Nat wants to build something with more neighbourhood appeal.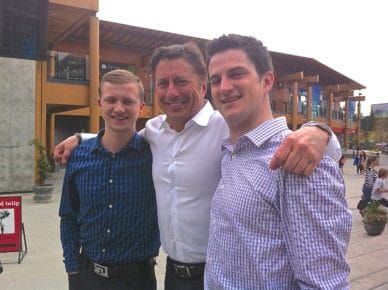 Mark and a team of students are inviting local residents to visit them in the mall, where they will be setting up a storefront where the pet store used to be (across from CIBC). From Saturday, May 4 to 25, hours will be Monday to Wednesday 11 a.m. to 4 p.m., Thursday and Friday 11 a.m. to 7 p.m., Saturday 10 a.m. to 5 p.m., and Sunday 1 p.m. to  4 p.m.
You'll also find them at Lynn Valley Day on Saturday, May 25, and Mark is also hoping to snag some tickets for the virtually sold-out May 24 Gala Dinner."At the end of the day, we have to do something that makes economic sense," says Mark. "But Nat is completely open to hearing a range of ideas."
Mark has introduced himself to the neighbourhood via this letter that was mailed out to 7,000 Lynn Valley homes this week. If you're not able to pop into the mall, he invites you to email your comments to him at mark[at]sagerllp.com. (We'll also be sure to post any of his team's feedback forms or community information here on LynnValleyLife, so keep an eye on our Front Porch blog's Town Planning section.)
Mark says that since his letter hit the streets, the response has been fantastic. "I've had many very thoughtful emails in just the first two days," he said.
While Mark doesn't want to give his own opinion regarding the best direction for Lynn Valley's future development – he's keeping an open mind as well – he does say that many residents seem to want more of a 'village centre' feel than a 'town centre' feel, one in keeping with our mountainside location. He's very familiar with our community, he says, having lots of friends here and a penchant for our YYoga studio, and he knows it's a place where a great many people choose to raise their families.
Mark himself was born and raised above the family shop in Dundarave, where he says his father planted flowers down the middle of the street. "I grew up always being aware of the things that make a community," he says. He enjoys the challenge of consensus-building, loves listening, and has a reputation as someone who is patient and thoughtful – all qualities that stood him in good stead when he was the West Van mayor, and will no doubt play a major role in his new post as Lynn Valley town planning confidante!