The growing local music scene has the Lynn Valley Legion doubling its popular Sunday Jam Sessions.
Part open-mic, part jam, all good music
"There aren't many places where you can show up, sign up and play what you feel," says Matina Spiropoulos, a volunteer event coordinator for the Legion. "Or show up, sign up and decide, 'Hey, I am not feeling this today.' There is a lot of great local talent existing and spread out in the community. We are trying to bring them together."
For 10 years the Legion has been hosting a jam session in one form or another off and on. Recent success has the Legion adding a second monthly session; they now occur on the second and last Sunday of the month. However, the busy Legion schedule may result in some sessions being shifted, so keep up with the Jam and its schedule on Facebook.  
"It began when members of the Legion connected, picked up some instruments started playing together," said Spiropoulos. "It was an avenue for the members to jam, which led to some bands being put together and now it's open to all."
Just jammin'
The sessions run from 3 to 6 p.m. and are led by the house band The Remnants. At any given session 100-125 musicians come together to listen and play. If the popularity continues to grow, Legion members will be given priority – and joining is one way to support veterans and access the great music community, says Spiropoulos.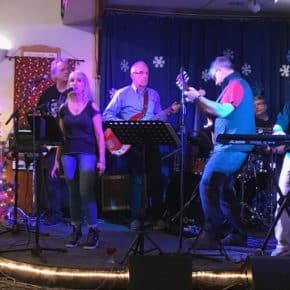 "Getting people isn't hard but we want to get the word out so new musicians will come – there is a big community here in Lynn Valley. This is a place where people can come hang out and make new musical connections. And jam!"
A typical session will have classic pop and rock, blues and more. Spiropoulos says the positive vibe offers a great way for musicians to work through new songs or sets to see how they play to a crowd. While it is not geared to beginners, it is a flexible and open venue, she says. Plus, there is fresh pub food available and the occasional guest band.
"I like music, I like being a part of my community, I like listening to music, I like the causal venue," says Spiropoulos. "It's relaxed and positive."
Upcoming Sunday Jams
Jan. 28, 3-6 p.m. The Remnants coming up!
Feb. 11,  3-6 p.m. with Miss Behave and guests
Feb. 25, 3-6 p.m. The Remnants (house band) and guests
Follow the Legion and Jam to stay connected to the local music scene and more!