By Sue Ronson, Contributing Writer
There are big plans for the multitude of entrances and exits at the north end of the Iron Workers Memorial/Second Narrows Bridge. And let's just say up front that it's not going to be easy getting through all this construction, but in the end we think Lynn Valleyites will agree that it's all been worth it.
This is a $150 million project. And it's going to take five years. It's also going to happen in stages:
Mountain Highway Interchange
The work begins this summer – 2016.  So get ready because Mountain Highway is about to become a full interchange with four ramps, intersection signals and the actual moving of Mountain Highway to finish at Keith Road and Brooksbank Avenue instead of its current location. And eventually – but this is down the road, so to speak, when the bridge on Highway 1 is replaced – there will be room for a designated lane from Mountain Highway directly onto Highway 1. It's in the plans. Really.
This part of the project will be completed in March 2018. Click here for more information about this project that will make a big difference to our lives here in Lynn Valley; here's a great PDF info brochure with some helpful visuals.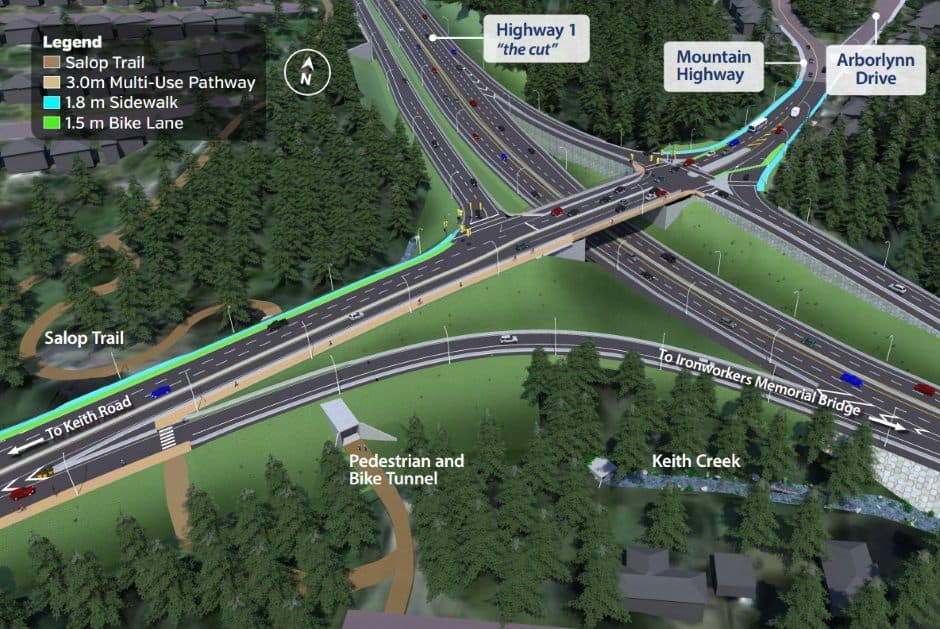 Lillooet Road/Mt. Seymour Parkway
Construction will begin here in the summer of 2017. There will be a new overpass connecting Keith Road and Mt Seymour Parkway, plus a tie in to the new Keith Road widening project currently in progress, better cycling and pedestrian routes and better bus access and stops. This part of the project will be completed by March 2020. Click here for the details.
Dollarton Highway
Construction will start in the summer of 2018. There will be a new eastbound on-ramp overpass constructed, a new pedestrian overpass and the merge distance of the current on-ramp will lengthened. There will be better access to Phibbs Exchange included in this. Completion date is March 2021; click here for info.
Now for a little perspective. We remember when they built the interchanges on Highway 1 many years ago at Lonsdale and Westview. At the time it was painful – I'm not going to lie! But wow, what a change it made in time spent travelling from Horseshoe Bay to Lynn Valley and Seymour. So in 2021 – five years from now – when all this is done we will look back and be grateful it all happened.
As those of us who have been through the ongoing construction of the new bridge across Lynn Creek at Keith Road and Mountain Highway can attest, it has gone surprisingly smoothly. Yes, there have been moments of near hysteria and hair-pulling but not as much as we thought. We even got a laugh from the unintended oxymoron written on a mobile traffic sign – Expect Possible Delays. Ok.
Now let's figure out a plan to get through the next five years. Car yoga, driving meditation (please keep your eyes open), deep breathing, chanting (this does not include swear words), digital books, learn a new language, learn swear words in a new language. Thoughts?