It's no surprise that Matt Finden likes spy thrillers, because he's clearly a man of action himself – once this Lynn Valley father of two became curious as to whether he could write a gripping tale of his own, there was no stopping him.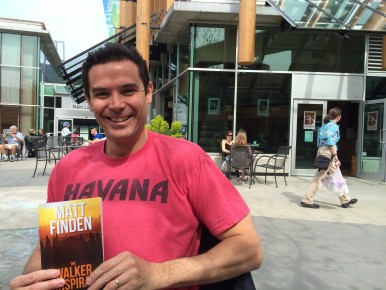 The result is a 377-page novel that has just been released via Amazon and iTunes, and that is on the shelves at Black Bond Books in Lynn Valley Mall. The Walker Conspiracy is a novel of international intrigue that begins when the head of a bank's info tech department is violently kidnapped in front of his family during a dream vacation in the south of France.
"I wanted to throw readers right into the action," explains Matt over a coffee at Delany's. And why not? It's the feet-first approach he took to writing the book, after all. After taking a month to mull over a plot, Matt set himself the task of writing 10 pages a month. "I figured that way,  I could write a novel in two and a half years," he says, and he proved correct, finishing his first draft in January 2013.
As a key account manager for Nestle Waters, Matt is used to being organized, and he clearly brought this ethos into his writing life. "I decided if I was going to do it, it was going to get done," he says. He spent the next couple of months in the editing process, then eight or 10 months shopping it around to traditional publishers.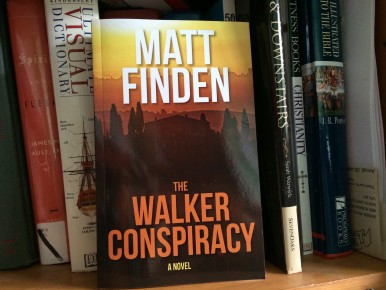 Like many before him, Matt soon tired of the effort it took to market his work to the mainstream publishing industry, and the long timelines that the process entails. Although he had expressions of interest and good feedback, a solid offer didn't materialize as quickly as he would have hoped so he decided to opt for self-publication.
He worked with Amazon's CreateSpace service to turn his Word document into a book that could easily take its place on the shelf of any store or library. By paying attention to detail along the way, he was able to get a reasonably priced package that didn't allow for many re-thinks or cover changes. "The process could have cost six or seven grand for sure, but I didn't want it to," says Matt. Instead, he'll be able to pay off his costs in about 350 copies, as he receives about $3 in author royalties from each paperback or digital purchase.
He's on his way to that goal, with first-week sales proving healthy. He readily acknowledges, though, that they could have all been purchased by family and friends: "My parents are delighted," he grins. "They're pretty pumped."  He's hoping that word-of-mouth recommendations will eventually mean The Walker Conspiracy distinguishes itself from the vast quantity of other books available on the internet, so that a wider circle of people might enjoy his debut work.
To read the first chapters of Matt's book, click here. See its Amazon listing here, or pop into Black Bond to browse through a bound copy. To learn more about the book, and to read Matt's earlier travel articles from the Vancouver Sun, you can visit his website.