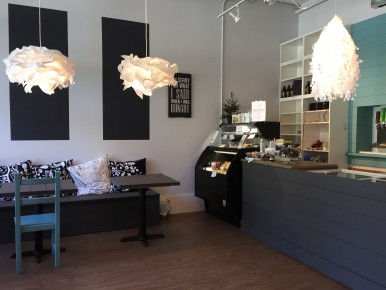 There's a new place to sit and enjoy the Lynn Valley village vibes, and enjoy a healthy bite or sip while you're at it. Nourish Market has transformed one end of its boutique grocery store into an airy eating spot, where you can take a load off and catch up on the local news.
We suspect, however, that there will be lots of "take away" from its new ice cream counter, from which various Mario's Gelati or (soon) Earnest ice cream flavours are served, starting at $4 for a single scoop. The variety of food choices is also good, including Peqish salads and sandwiches and treats from the Two Daughters Bakeshop in North Vancouver. There are a a range of natural and gluten-free choices to keep everyone in your party happy, and the prices are reasonable.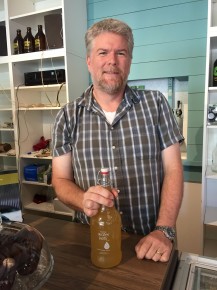 Owner Jeff Proseilo (shown) says the new cafe has brought a surge of extra visitors to the shop since it opened a week ago, and he enjoys introducing people to some of its unique offerings. He's happy to offer a taste of some of the beverages on tap, which include Bucha Brew Kombucha, Squamish Water Kefir, and Dickie's Ginger Beer – the latter is always a favourite with the gentlemen, says Jeff. The kombucha and water kefir come in a choice of flavours (we were quite taken with the Mint Mojito water kefir!) Purchase a glass or fill your growler, and you're good to go.
Nourish Market has expanded its hours, as you'll see in the photo below, and during the summer the market will be open until 9pm on Friday nights for the Friday night concert crowd. Those start on July 7, by the way, with Latin dance band Mazacote playing from 7 to 9 p.m. Hope to see you there!