With only a few days' notice, people banded together to resurrect the North Vancouver track and field meet at Swangard Stadium, which had been officially cancelled as due to the teachers' strike on the day of the meet. One of the volunteers, Desiree Kranendijk, tells us how it went:
Hundreds of students from almost all the schools across North Vancouver had the opportunity to compete in the annual Swangard Track Meet yesterday despite the ongoing teachers' strike. A collection of over 100 parent volunteers mobilized after hearing the track event would be cancelled due to the rotating strike, in order to ensure that the students had the chance to showcase their athleticism and put to use all the training provided by the teachers and supporters in the months leading up to the event.
Within about 76 hours, and with great assistance from the charitable organization 60 Minute Kids Club, Swangard stadium had been secured, insurance obtained, logistics organized and tens of volunteers contacted to ensure the word got out to the community.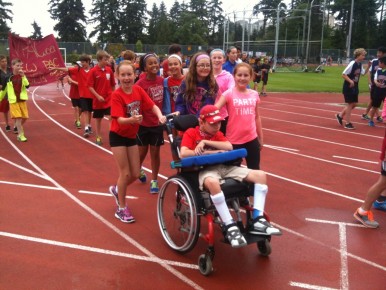 And what an amazing day it was at Swangard yesterday. Hundreds of proud kids showed up early in the morning to sign in, with handmade banners so they could represent their school in the parade. Many were full of excitement to finally participate in their event after months of practising (shot put, long jump, triple jump, high jump, relay, short and long distance). In the end close to 26 schools were represented. All events took place, the stadium was filled with laughter, smiles and young athletes ready to race.
It was a heart-warming experience to watch all these children compete and it showed that community and school spirit is alive and well in North Vancouver, and that when things break down for whatever reason, we are able to step up and put the kids first.
– Desiree Kranendijk