The 100th Lynn Valley Day shindig may be over as of Saturday evening, but the celebration of local heritage will continue on Sunday with an event at Lynn Headwaters Park.
Wilderness At Your Doorstep gives people the chance to learn more about the mountain folds and forests that have shaped the history of this neighbourhood, and the pioneers who were there when it happened.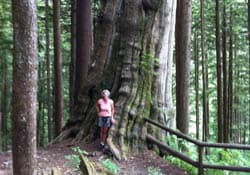 Archeology students and experts on park trails, bear behaviour, and history will be on hand to introduce people to the natural history of the park. Artifacts that bring to life the logging and mining activities that took place in the area are on display at the BC Mills House at the park entrance.
The small museum is an example of the early pre-fab homes that were sold by the B.C. Mills Timber and Trading Company of Vancouver. It was originally assembled at 147 East 1st Street in 1908, by Captain Henry Pybus, who commanded the CPR Express of China and the Empress of Japan. In 1994, the Sixth Field Engineering Squadron of North Van dismantled the house and reassembled it in its current location in Lynn Headwaters, where its refurbishing was financed with B.C. Heritage Trust funds that were granted to Metro Vancouver Parks. (For some interesting background on the history of the BC Mills homes, visit this article from Heritage Vancouver.)
Wilderness at Your Doorstep runs from 10 a.m. to 2 p.m. on Sunday, May 27th, and refreshments will be provided by Tim Hortons.
Thanks to parks volunteers, BC Mills House is also open to the public from May to September from 11 a.m. to 3 p.m. Sundays and public holidays. For a three-minute video tour through the park and the BC Mills museum, click here.