Jenny Mitchell is a Lynn Valley mom like many others – she loves heading out on the trails, hitting the library, and socializing at Browns. Her kids, Dylan and Evan, go to Lynn Valley Elementary and play baseball and soccer.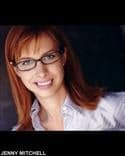 Not many local moms, however, get to play a maternal alter-ego on stage. But that's what Jenny will be doing when the show Secrets of a Soccer Mom opens at Presentation House on Friday night.
Jenny plays Lynn, one of three moms taking part in an informal soccer match against their eight-year-old sons. What starts out as a friendly game, though, becomes something else entirely as the afternoon progresses and the moms make surprising discoveries about themselves, their children and each other.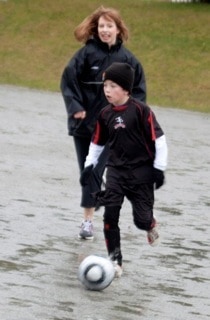 Jenny describes Lynn as "a PAC mom, who takes on lots of volunteer tasks and is always eager to help out for the kids' sake.   But her enthusiasm is short-lived when she starts to realize that people might be taking her for granted."
Perhaps there are some moms in Lynn Valley who can relate?! Either way, the play sounds like it's filled with laughs and good conversation-starters. It runs from March 1 to 10, so get your tix now!
Fortunately for LynnValleyLife readers, we have two to give away. Just tell us one more arts event you've enjoyed right here in Lynn Valley – at a school, in the village square, or ?? – and we'll put your name in a random draw. Winner will be announced Wednesday evening, so get your entry in now, either via our Facebook post or by emailing [email protected]. Deadline: Wednesday, Feb. 29th at 5 p.m.