Coming to You From Lynn O'Malley: Even those people who staunchly refuse to make New Year's Resolutions must, like the rest of us, look forward to the new year and see all the potential it offers. Whether it is waistlines that need contracting or minds that need expanding, all seems – and indeed is – possible.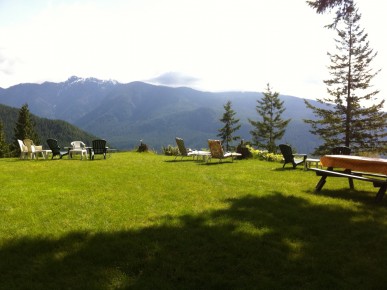 Some years ago a Vancouver couple made the 100-Mile Diet a household word; this year, LynnValleyLife is adapting that concept and publishing a list of One-Mile Resolutions. Whether you want to improve body, mind or spirit, we're confident that self-fulfilment is – literally – just around the corner.
1. Beginning in January, the Lynn Valley Community Room adjacent to the library will come alive with a variety of new rec centre programs. Check out this listing of classes that offer up a variety of fitness options, from Nordic pole walking to belly dancing to self-defense.
2. If this is the year to spruce up your yard, get a hand from the GardenSmart programs of the North Shore Recycling Program. Whether it is a veggie gardening workshop at the Lynn Canyon Ecology Centre or the provision of an expert gardener for your neighbourhood garden party, GardenSmart is the go-to resource for green thumbs.
3. Stretch your think-box by attending a Philosopher's Café at Lynn Valley Library. The topic for January is relativism: Are there objective moral truths?
4. Then stretch your legs with a walking club – join up with the Mollie Nye House seniors on Wednesdays, or the Sun Run Walking Group on Tuesday mornings, HQ'd in the L.V. Community Room.
5. You can stretch everything else with a yoga class – YYoga is a popular choice in Lynn Valley Village, and new drop-in, by-donation classes (including one for girls) are offered by the new youth and families minister at Lynn Valley United Church.
6. Resolve to make your neighbourhood an even better place to live by volunteering your time. Create your own neighbourhood improvement project, or join one of our local groups such as the community association or the Lynn Valley Lions.
7. Like the song goes, Climb Every Mountain – but start with our own. When conditions allow, follow in the footsteps of pioneers who walked up the Old Grouse Mountain Highway, a three or four-hour hike up the 13-km gravel road that leads from the top of Mountain Highway to the Grouse Mountain chalet.
8. How long has it been since you dropped in on your neighbour? If it's been a while, surprise them with a banana-bread visit or some impromptu help washing the car.
9. Adopt one new healthful diet habit – ask the fine folk at Country Health in the mall or Nourish Market in the village for tips.
10. If you've accomplished any or all of these One-Mile Resolutions, you deserve a reward. Treat yourself to the view from Fromme Mountain (pictured at top), which is one of the best in Lynn Valley. Only one catch: you'll have to doff your drawers. This particular vista is only seen from the grassy grounds of the Van Tan Club, the nudist colony up Old Grouse Mountain Highway that has been in operation for almost 75 years. Consider your Van Tan membership another adventure for the new year!